Derby Win as Duchy Defeat Devon
Monday 16th September 2019
Channel League Cornwall v Devon Sunday 15th September 2019 Perranporth GC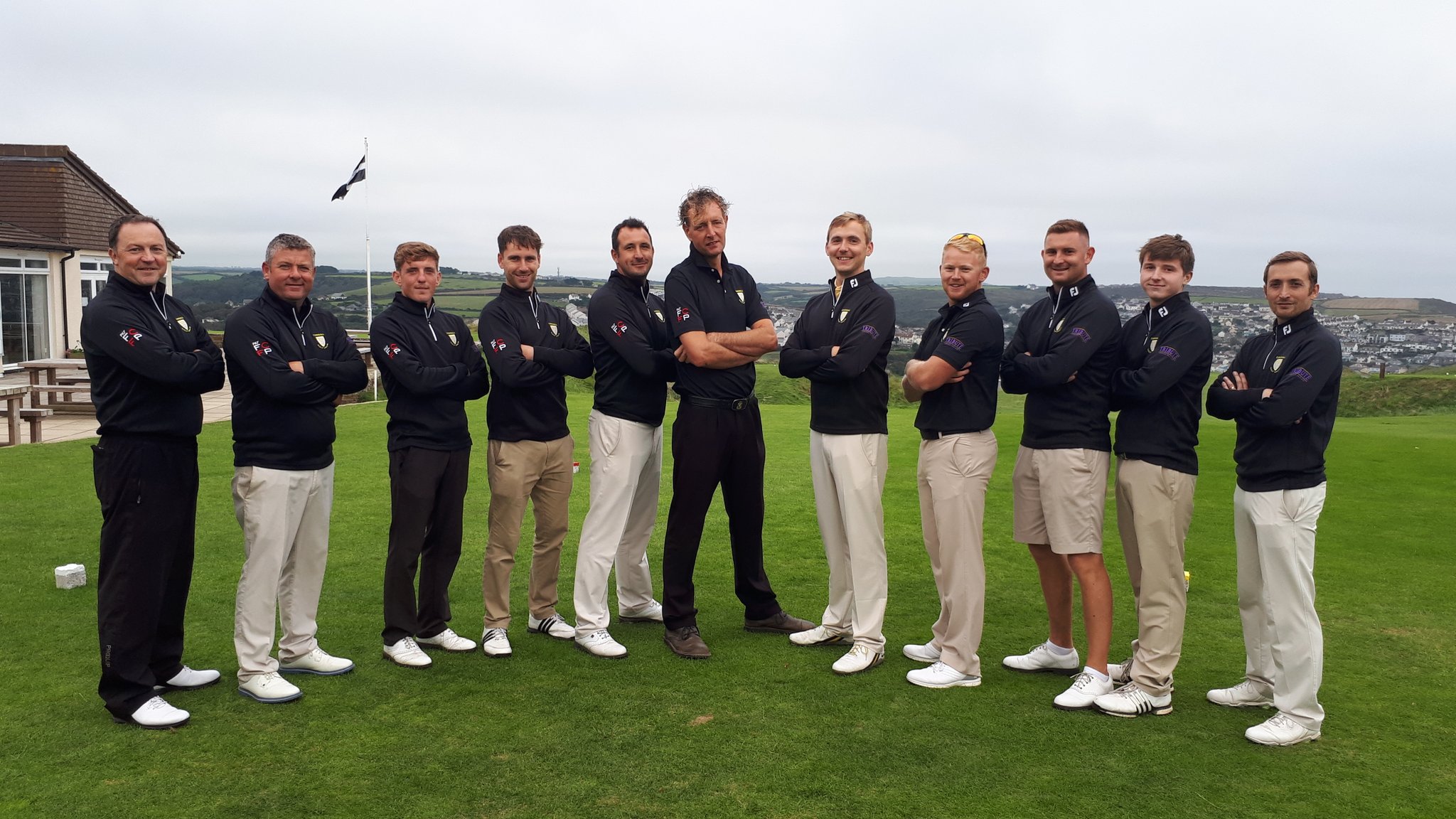 The County teams of Cornwall and Devon gathered at Perranporth Golf Club for the penultimate game of both Counties Channel League season and the penultimate game in charge in respective Captain's Ian Veale (Cornwall) and Peter Lawrences' reigns.
A nip and tuck morning saw Devon emerge with a slender 3 - 2 lead after the five foursomes matches (results below).
Veale turned to Perranporth member Conor Wilson, to lead the line in the afternoon singles, and he would go up against Jake Burnage, the lowest handicapped amateur golfer in England (+6.1) who came to Perranporth straight from Lahinch, Ireland, having just helped England to win the Home Internationals crown. Wilson battled to take an early lead, but a three-putt par on the short par-4 eighth hole allowed his opponents birdie to square the match. Wilson birdied nine and eleven to take a two-hole lead only to see Burnage make birdies of his own on twelve and thirteen before they halved the fourteenth for the match to be locked at all square. Yet another birdie for Wilson on 15 reclaimed the lead, which he would extend to two holes when winning the sixteenth. Approach shots finished side by side on the par-4 seventeenth hole with the birdie attempt from Burnage staying above ground, which Wilson would concede for a par. Two putts would seal a famous victory for Wilson and he could be forgiven when an adrenaline filled first putt slipped two feet past the hole! However a safe and secure par putt saw Wilson beat Burnage in what was to be his last game as an amateur before he turns to the professional ranks tomorrow. (Everyone involved with Cornwall Golf wishes Jake all the very best in his professional career which will first see him go to Frilford Heath in October for European Qualifying school)
As Wilson was bringing the scores level at three apiece his morning foursomes partner, Rob MacGregor (Tehidy Park) was quietly going about building a safe lead against Craig Passmore, eventually shaking hands on the sixteenth green to afford Cornwall the lead for the first time during the day (4 - 3). The lead wouldn't last long as Joe Reynard (Trevose) was defeated by recent West of England Champion, Bradley Scott (3&1) which was followed by a heavy defeat for George Champion (Truro) to Jack Pope (6&5) to hand the lead back to Devon (4 - 5)
The game that potentially turned the match was that of Matt Richards (West Cornwall) against Sam Dunn. Dunn took a commanding three-hole lead after just six holes. Richards chipped away at the lead and by the time they reached the fifteenth tee Dunn still led by two holes. A Richards birdie on fifteen brought the deficit back to one down, and at that stage Dunn had recorded six birdies and nine pars. A sumptuous up and down par from Richards on sixteen would level the game as Dunn recorded his first bogey, a three-putt. Dunn agonized when his birdie attempt on seventeen touched the hole but refused to drop, the game remaining all square. Richards, who holds a four to zero record against Dunn in head to heads would leave Dunn distraught when he birdied the eighteenth to extend that run to five nil and claim an epic one-hole victory, which would level the match at five points apiece.
An ever improving Kieran Faulkner (Looe) was next to claim a point for Cornwall when an assured performance saw him shake the hand of Lewis Beer on the sixteenth green to edge the home county ahead again (6 - 5). Having held a two-hole lead for most of his game Josh Greenaway (St Enodoc) would see his opponent, Jay Scott, chip away, eventually arriving at the sixteenth tee all square, but Greenaway would call on all of his experience and talent to register a sublime birdie on the long par-3 sixteenth before hitting his approach shot to the par-4 seventeenth to 18 inches to claim a 2&1 victory (7 - 5).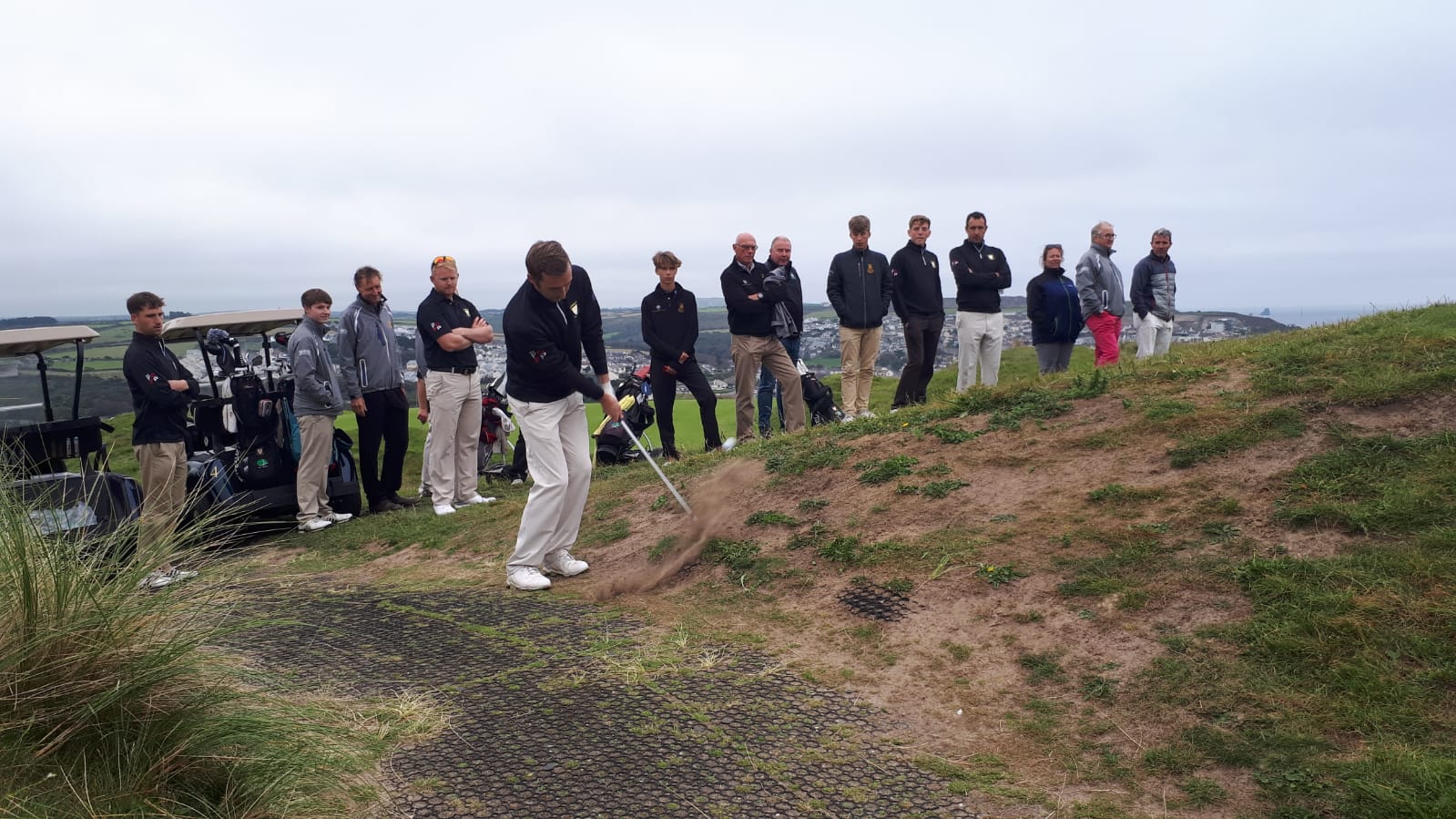 Captain Veale was now looking for one more point from the remaining three games. Steve Davies (Trevose) arrived at the sixteenth tee with a two-hole lead, but a three-putt bogey on sixteen halved his advantage. Richard Jasper (Launceston) arrived at the sixteenth tee, but a bogey from him would see him walk to the seventeenth with a one-hole deficit, and with Aaron Stephens (Newquay) reaching the sixteenth tee with a three-hole deficit all hopes would appear to lie with Davies, playing against Devon Vice-Captain, Chris McGill.
McGill made a solid par on seventeen. Davies stood over a birdie putt of 15 feet. To hole it would win the match, but the putt would slide past the right side to keep the suspense going for both teams. By this stage Stephens had lost (7 - 6).
To the short par-4 eighteenth tee and both McGill and Davies hit perfect iron tee shots just short of the green. Davies was to play first, and an excellent pitch to two-feet piled the pressure onto McGill. The Devon player played a good shot to 12 feet, but he would have to make birdie to make Davies putt. It wasn't to be for McGill as a relieved Cornwall team saw his putt narrowly miss before McGill conceded the putt of Davies which afforded Cornwall an all important eighth and match winning point.
With Jasper narrowly losing to Adam Bridgewater (also playing in his final county game), by one-hole the Cornwall team could celebrate a narrow 8 - 7 victory over their cross Tamar rivals.
In the after match speeches both Captains paid tribute to host club Perranporth for their welcome and hodpitality. They praised the service shown to Devon golf by Adam Bridgewater over twenty plus years and also wished Jake Burnage the very best as he turns to the paid ranks.(Both are pictured below - courtesy of Andy Parker)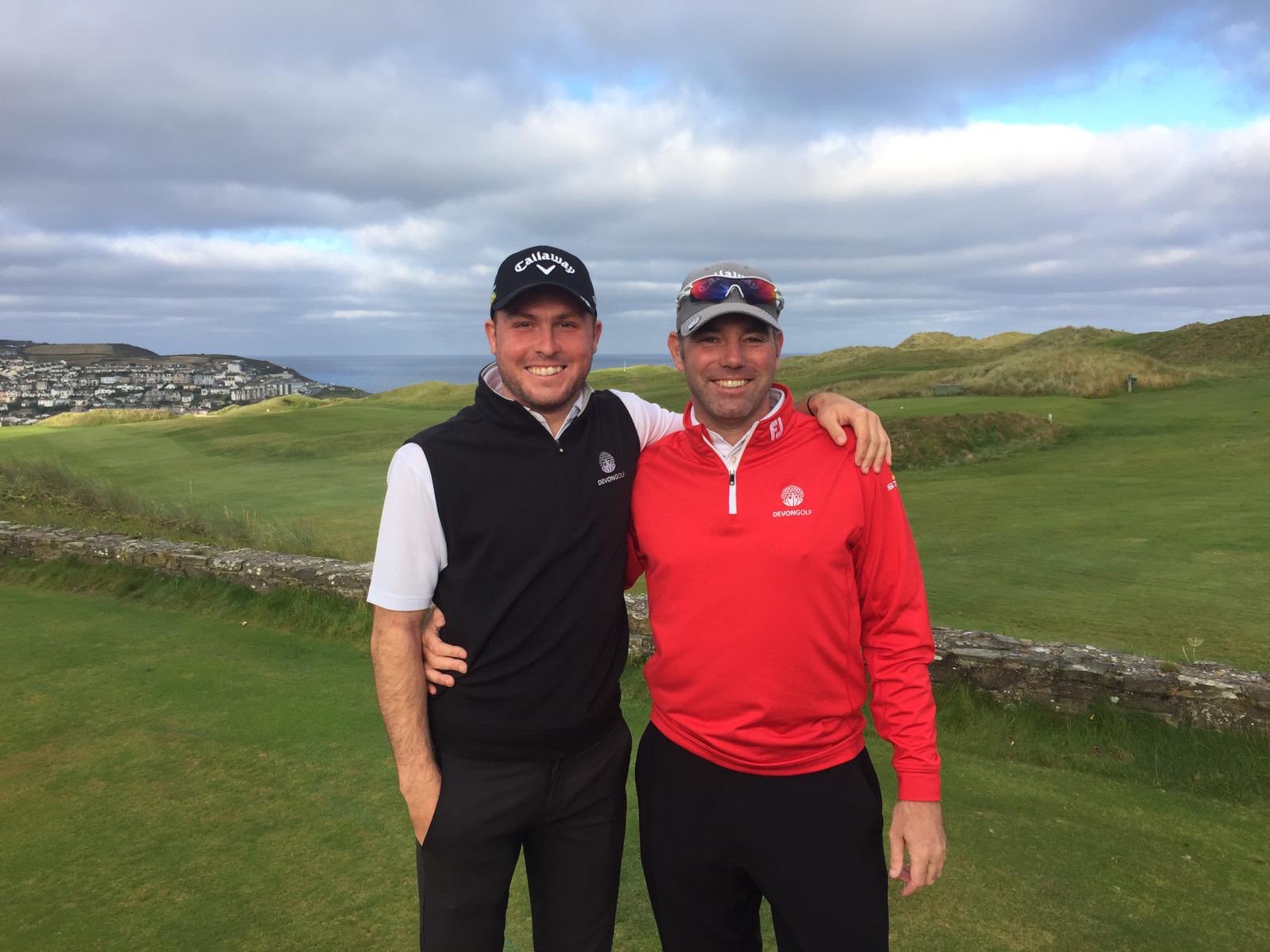 Cornwall will finish their Channel League campaign with a visit to Wiltshire on the weekend of October 4th/5th - but before that the Senior teams of Cornwall and Devon will return to Perranporth on 23rd September where a home victory could potentially wrap up the Seniors Channel League title for Captain Andy Rowe and his team - all eyes on that result!