Partnership with St Austell Brewery Announced
Friday 17th May 2019
Tribute Cornish Pale Ale links with CGU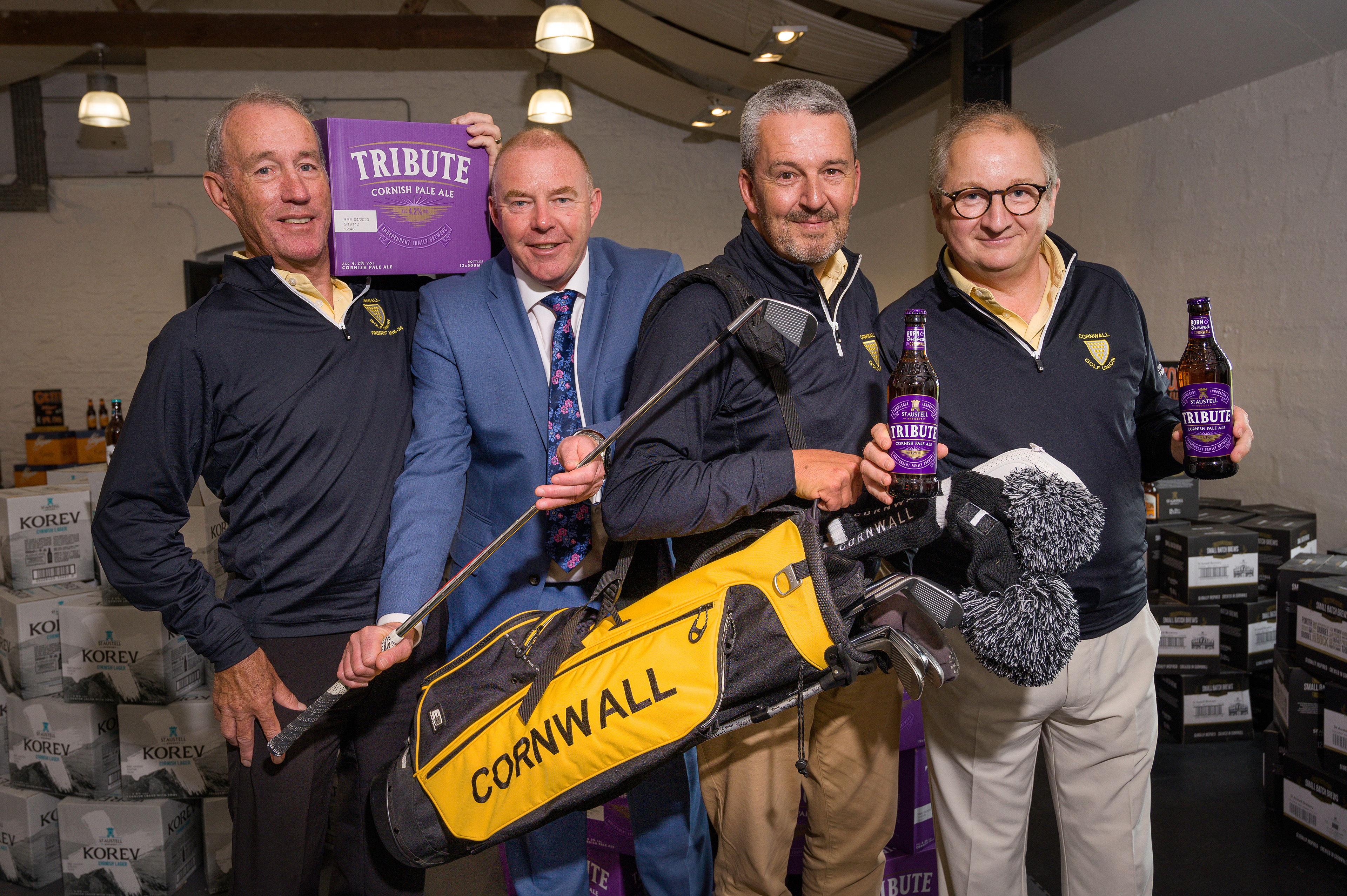 County Week will tee off this year with a new strategic partnership for Cornwall Golf. The Cornwall Amateur Championship Week begins on Sunday (19 May) at Mullion Golf Club with an important announcement for the game of golf in Cornwall.
To coincide with the start of the biggest amateur competition of the year, the Cornwall Golf Union (CGU) announced that it has agreed a new partnership with St Austell Brewery and its flagship beer, Tribute Cornish Pale Ale.
The new relationship between the two organisations is aimed at supporting the Union, and its 33 affiliated clubs, through the Brewery's free trade operation and expanding the sports sponsorship portfolio that Tribute has across Cornwall.
Tribute has been a leading sponsor of grassroots sport in Cornwall for many years, primarily with rugby, cricket and gig rowing. This deal now sees the Ale brand supporting golf, and golf clubs, in the region in a similar way. All senior county teams and CGU representatives will wear Tribute branded clothing, and the CGU will use the sponsorship to plough back into the local game.
Mike Ellis, President of the Cornwall Golf Union, said: "We are delighted to be associated with, and have the opportunity to promote, such a strong and long-standing family business.
"The Union exists to promote the amateur game of golf, this new relationship offers a further opportunity to raise awareness of Cornwall as a county and golf destination, and to work further with our 33 affiliate clubs to develop the game at all levels in the Duchy."
Mark Stephens, Regional Sales Manager at St Austell Brewery, said: "We are delighted to announce this partnership with the CGU, which represents some of the most stunning courses in Cornwall. Through Tribute Ale we are committed to supporting sport in Cornwall wherever possible and this is a really exciting new venture for us."
Cornwall Amateur Championship Week is a week long series of competitions, celebrating the amateur game in the county., with the highlight being the Amateur Championship. The current men's champion is Joe Cruse, who has since turned professional, so the county will have a new champion for 2019/20.
The CGU was founded in 1901 and exists to promote and retain the traditions and rules of the ancient amateur game of Golf within the Duchy. It is also affiliated to England Golf which administers the interests of amateur golfers across the country.
You can visit the St Austell Brewery website by clicking here
And if you would like to find out more about Tribute click here
Picture caption: (L-R) Mike Ellis, Mark Stephens, Chris Pountney (CGU Secretary), and Andrew Clotworthy, (CGU Vice President), meet at St Austell Brewery to sign the new partnership agreement.
More about St Austell Brewery:
Independent, family-owned brewer, St Austell Brewery has been brewing beer in Cornwall since 1851. Fast forward 167 years and while traditional brewing techniques remain, innovation, passion and craftsmanship continue to evolve.
Most famous for its flagship beer, Tribute Cornish Pale Ale, St Austell Brewery's range of award-winning beers – also including Proper Job IPA and Korev Lager - are available in pubs and supermarkets nationwide.
A gem at the heart of the Cornish community, and an employer of over 1,500 people, the company also has an estate of 179 pubs and hotels across the South West.
In 2016 St Austell Brewery joined forces with fellow west country brewer, Bath Ales, forming the St Austell Family Group. Bath Ales' state-of-the-art new brewhouse, Hare Brewery, opened its doors in 2018.