Mullion Back on the Map as CTC Winners
Monday 18th March 2019
Cornwall Team Championship Final Sunday 17th March 2019 Newquay GC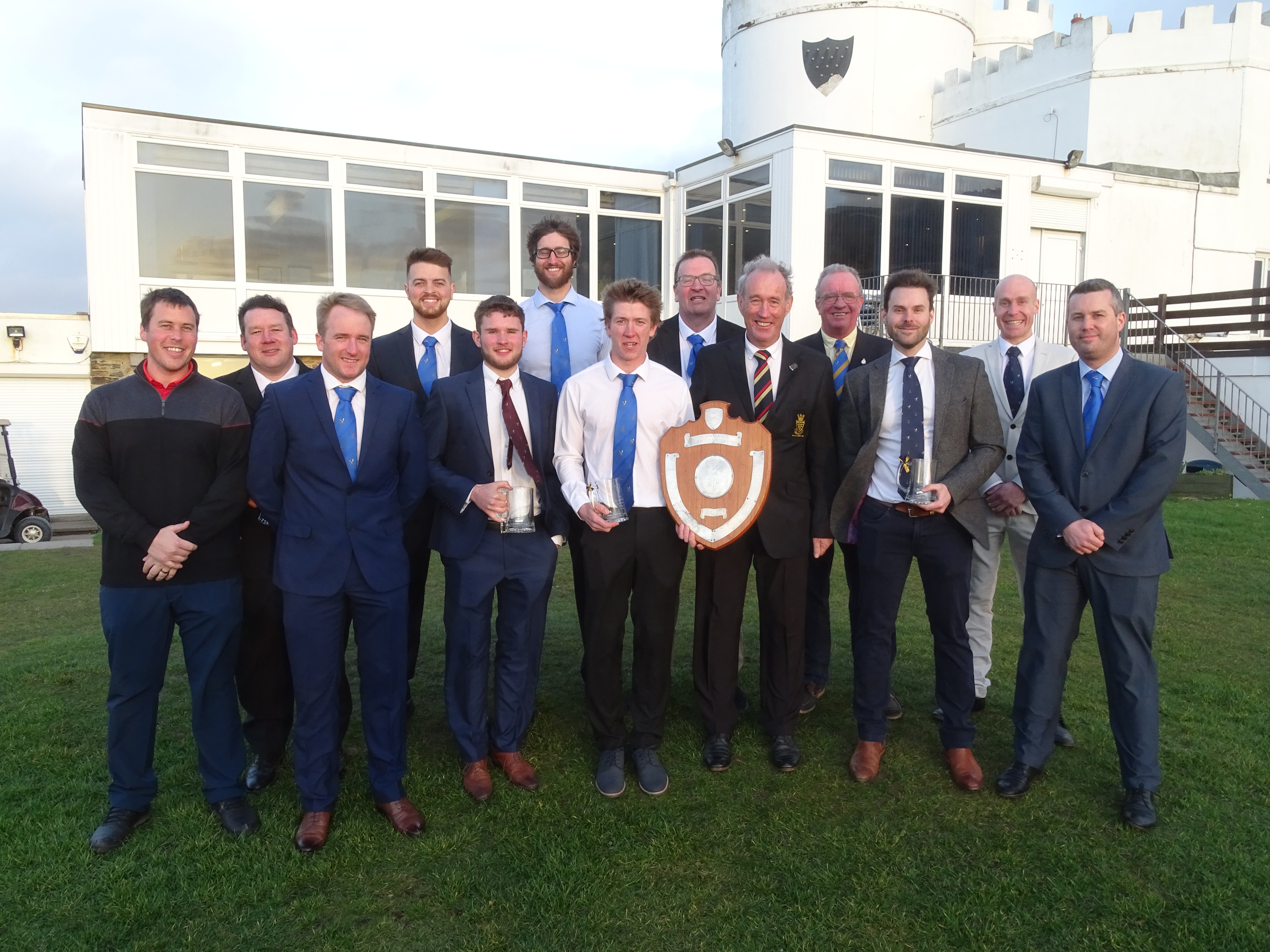 Mullion turned back the clock yesterday and claimed victory in the Duchy's premier Cornwall Team Championship for the first time since their only win back in 1980. Mullion overcame 11 time winners Tehidy Park at a very well presented Newquay GC in predominantly dry but very windy and tough conditions. Trailing by virtue of the 9th man morning single the Mullion team claimed 5.5 points from the available 8 afternoon singles to run out worthy 7.5 - 5.25 winners, sparking great celebrations amongst their team and a large gallery of supporters. (Mullion are pictured above (L to R): Chris Ramsden (PGA Professional), Lindsey Dale, Michael Clark, Josh Chaplin, Alex McHugh, George Popperwell, Jamie Greet, Mark Twynham, CGU President Mike Ellis, Mike Pamphilon, Al Woodward, Chats Harris and Nick Martin)
The day had started with a very early win for Tehidy's Justin Barnard and Rob MacGregor who demolished the Mullion pairing of Al Woodward and Chats Harris 8&7 to give themselves a mid morning lunch and whilst the other foursomes took a little loner all resulted in comfortable wins for both sides. Mullion levelled things with a 3&2 win for Josh Chaplin and Jamie Greet over Andrew Clotworthy and James Barnard and then they went ahead with a 5&4 win by George Popperwell and Alex McHugh over Peter Simmons and Martin Langford. Veteran campaigners County Captain Ian Veale and Matt Lock restored the balance with a 5&3 win over Lindsey Dale and Nick Martin. Tehidy gained what is so often the crucial 9th man as Tom Chapman beat Michael Clark 5&4 to give them the edge at lunch.
So the equations for both teams were simple. Tehidy needed half of the afternoon eight available points with Mullion seeking 4.5 and with winds gusting at over 40 mph conditions were on occasions set to be brutal.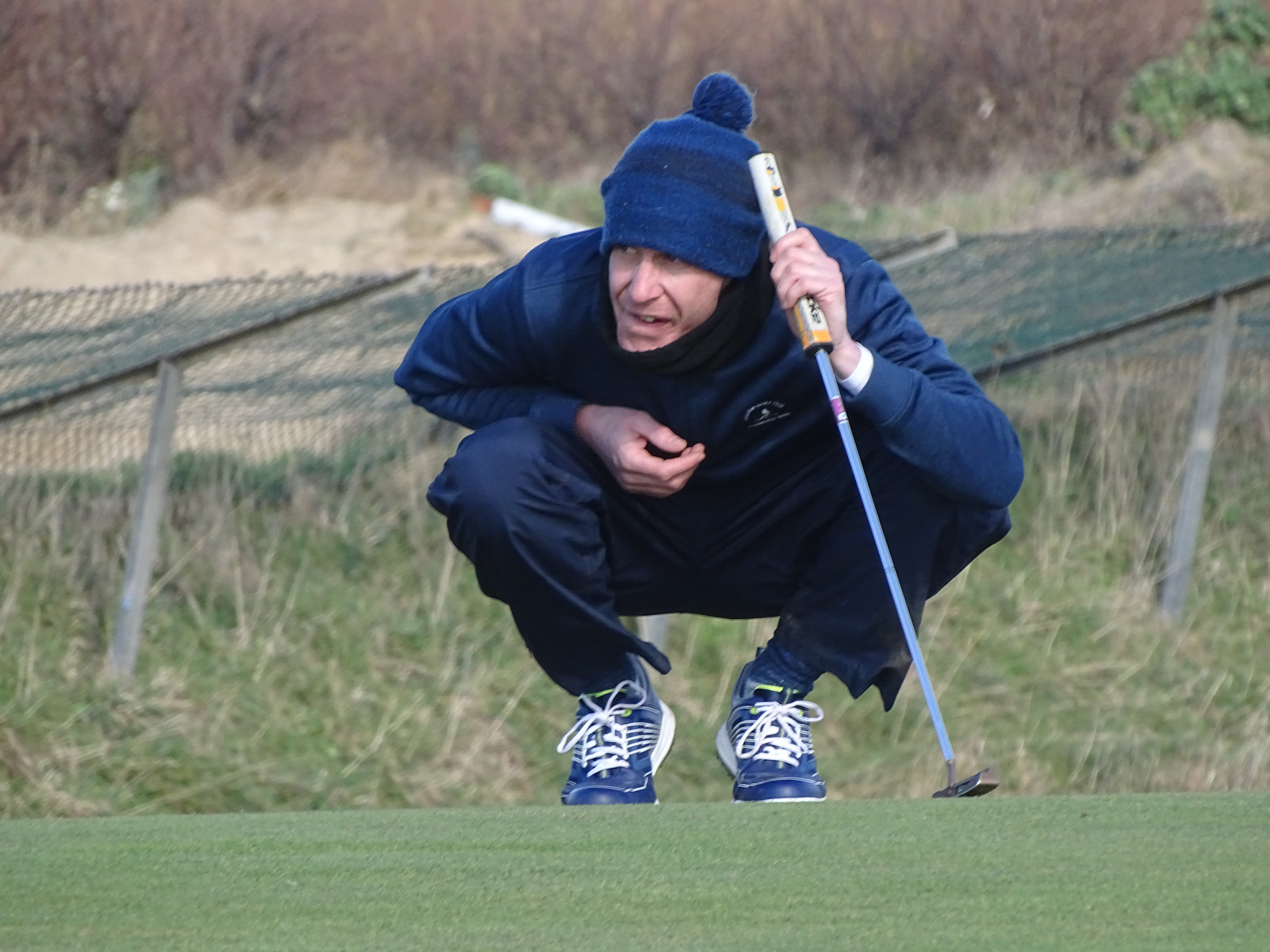 'Chats' Harris (Mullion) sizes up the situation at the 11th hole
In the top match Woodward and Justin Barnard could not be separated throughout but behind them things were very different. Harris playing superb golf, got his nose in front of MacGregor early on and went 4 up on 11 before closing out his game at the 14th. Other wins followed as Chaplin maintained his season long unbeaten CTC record beating Langford 4&3 and McHugh holed a 14 footer at the 17th to beat Lock 2&1. Tehidy stayed in the fight as Veale beat Greet 2&1 and with Simmons also up in his match with Martin they were not lying down.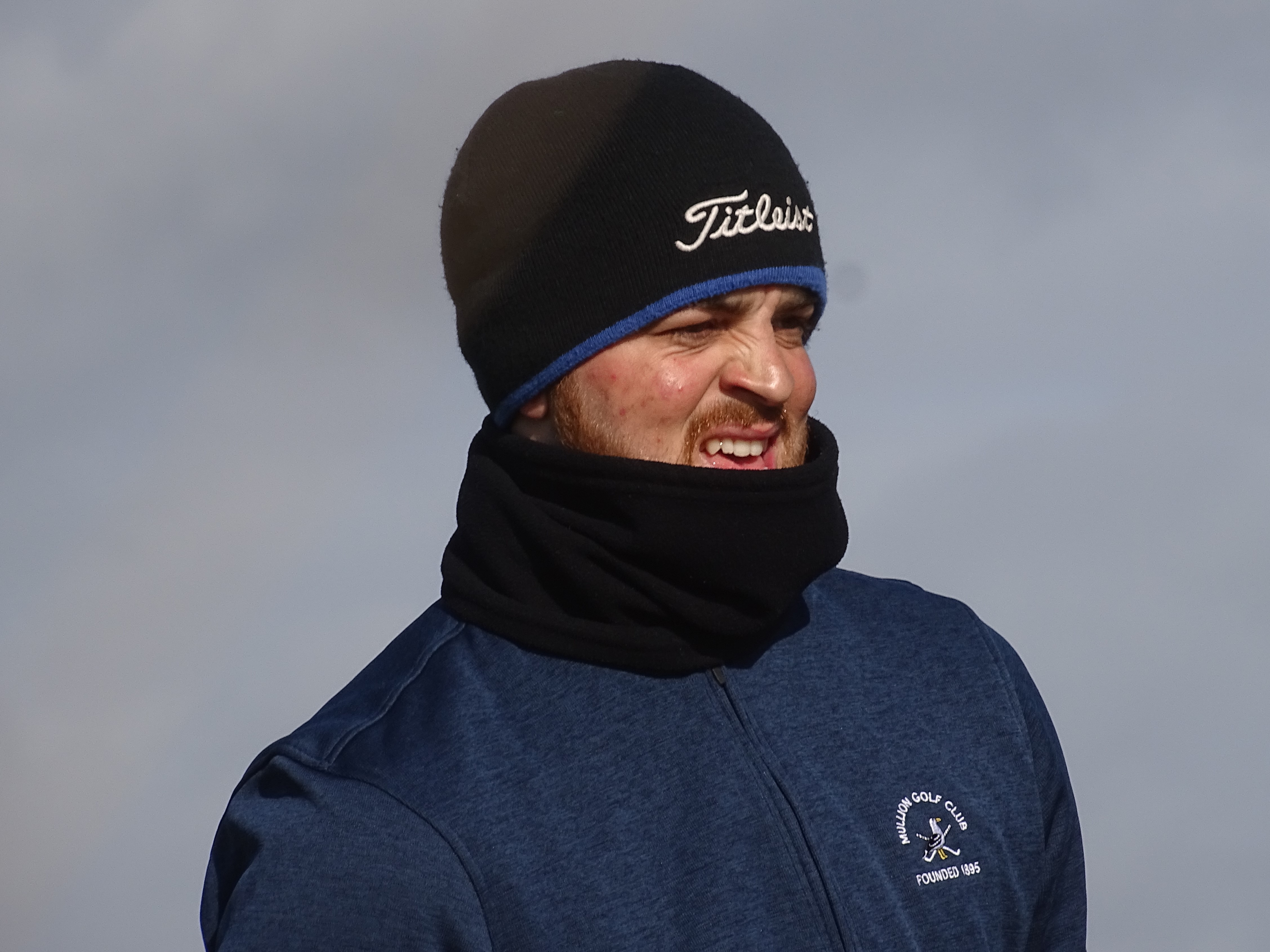 Mullion's Josh Chaplin wrapped against the wind
The par 3 16th hole provided great entertainment for the many spectators surrounding it. At that hole McHugh made a great up and down par from well over the back to keep his nose in front of Lock. Clotworthy defied the strong wind on 16 to register an excellent birdie 2 to keep his match with Popperwell alive at 1 down, Dale made an outstanding par at 16 after leaving his tee shot well short of Newquay's course splitting path, and Martin also made an excellent three from over the back sinking a 12 footer against Simmons who had found the green with a super shot but could only make par. Simmons went on to win 2&1 but before then and with Dale dormy up on James Barnard it came down to the match between Popperwell and Clotworthy.The latter had levelled his match by winning the 17th but at the last Popperwell calmly two putted the 18th green for a par and a 1 up win and in so doing sealed the win for the country's most southerly club, Mullion had completed their fightback and laid their hands on the coveted CTC shield. Popperwell was mobbed by teammates and supporters alike.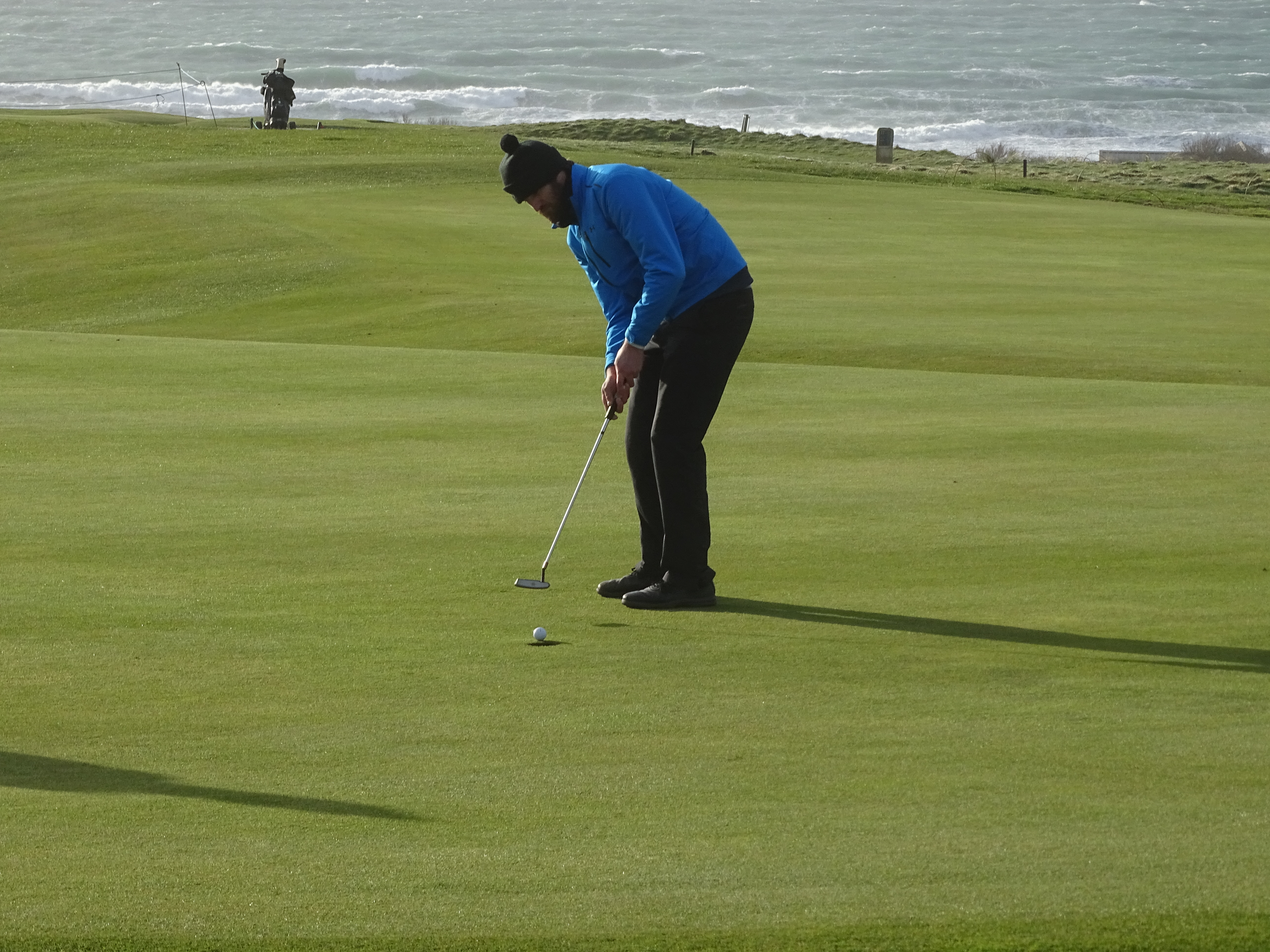 George Popperwell about to secure the CTC win for Mullion at Newquay's 18th hole
At the presentation Newquay GC Captain David Ball welcomed those present to the club and hoped all had enjoyed their experience. He spoke of the club's delight at the condition of the course and paid tribute to the work of Greenkeeper Dan Kendle and his staff, something which was reiterated by CGU President Mike Ellis who thanked the club and its staff wholeheartedly for hosting the days finals.
Ellis told the audience the Duchy's premier team competition had commenced in 1953 and was now in 67th year - something remarkable in itself. Mullion would now go on and be Cornwall's representatives in the 2019 England Golf Champion Club event staged over two days and this year taking place at Romford GC, Essex.
Tehidy Park GC Captain Julian Ridge congratulated Mullion on their win saying on the day they had simply outplayed his team. He paid tribute to the number of spectators from both sides and suggested the two clubs must be the best supported in the Duchy.
For Mullion Team Captain Mark Twynham was ecstatic. He told a packed clubhouse this was a great win for his team which put them back on the map and would do a lot for the club's standing in the year when they will stage the CGU Championship week in May. He said that not having won a CTC match for some 10 to 12 years they had not expected very much when setting out in October 2018 but a great team and club spirit combined with wins over Newquay, Perranporth and St Enodoc had left them fearing no one. He praised his team and was delighted to accept the CTC Shield from CGU President Mike Ellis together with Mullion Club Captain Mike Pamphilon.
CTC Final Matchsheet