Fox is 2020 Cornwall County Champion
Monday 14th September 2020
CGU Amateur Championship Final 2020 Sunday 13th September 2020 St Austell GC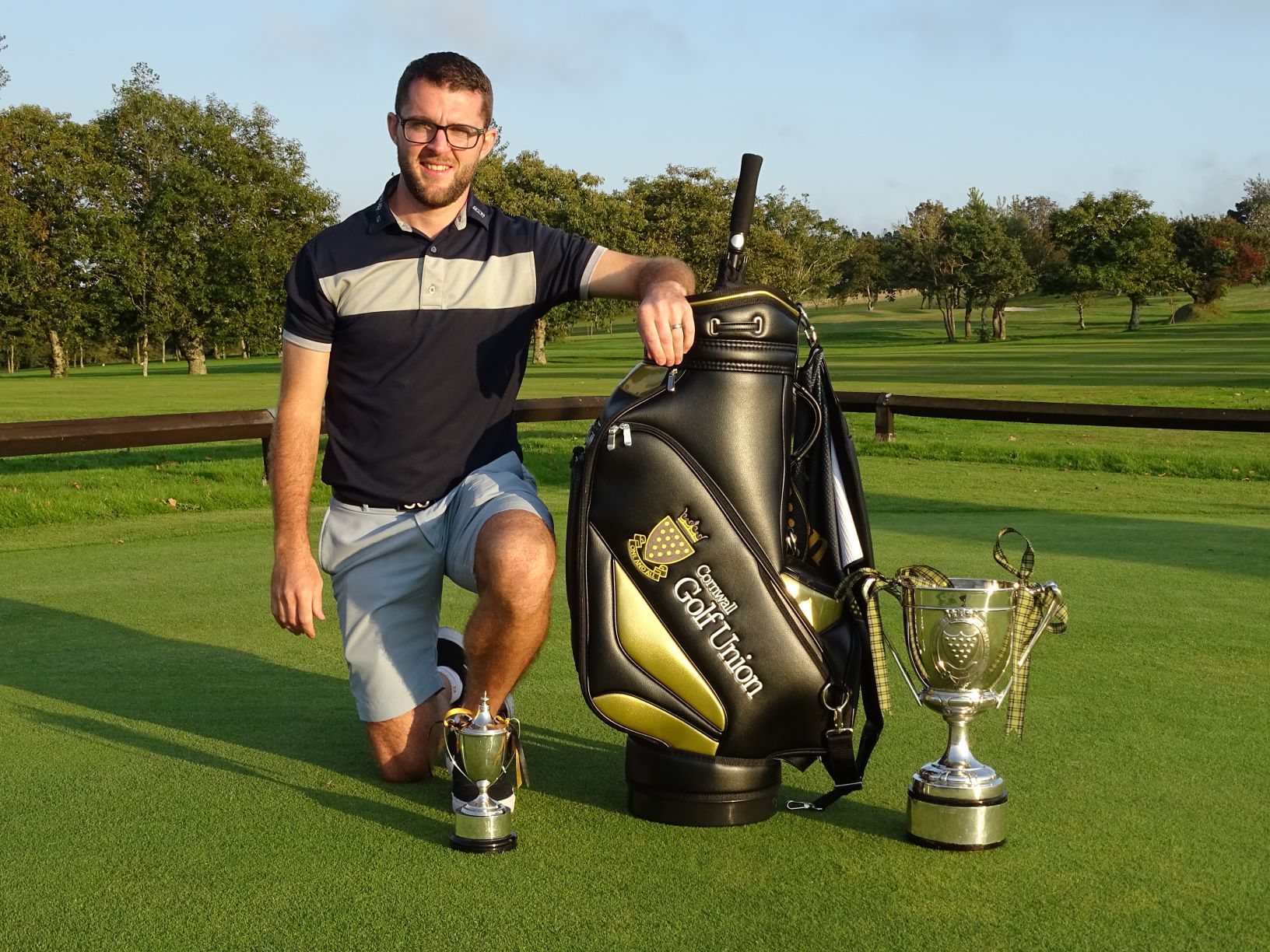 Some 9 years after winning the County Championship at St Austell, Tom Fox (Tehidy Park) returned to the winners rostrum yesterday with a win in the final of the 2020 Cornwall Amateur Championship over the same course. St Austell is clearly to Tom's liking for this year the Championship was moved to a September date after the original week at Newquay in May was cancelled due to the worldwide pandemic. On a glorious day with wall to wall sunshine and light winds and on a course so very well presented by Greenkeeper Vince Vosper and his team, Fox took on and deservedly defeated Jared Mortimore (Truro) 3&2 in the 36 hole matchplay final.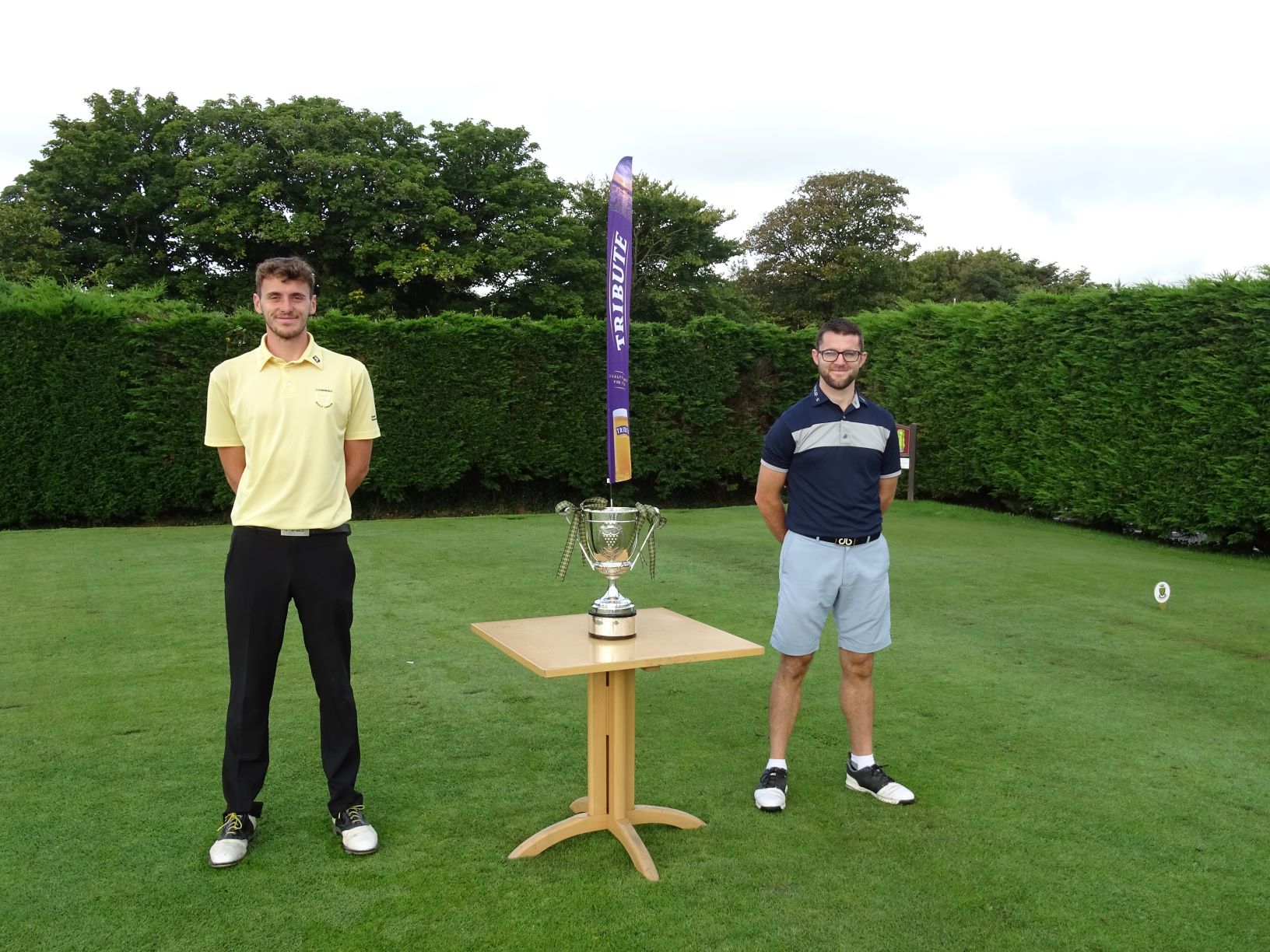 As stated a beautiful morning greeted the players and an initial small band of spectators on Sunday at St. Austell and the anticipation of some great golf was tangible. Mortimore made the first move with a par at the first good enough to get him 1 up. Fox bounced back with his own par at the third to level the match. Birdies at the fifth and eighth holes took Mortimore 2 up. When he made another at the 11th he had put some distance between himself and his opponent. Fox was in some potential trouble and clearly realised it as two pars and two birdies in the remaining morning holes saw him turn the match around and hold a 2 hole advantage at the lunch break. Fox had won 5 of the last 6 morning holes, including a birdie on 18.
The afternoon round continued in great conditions and the golf seemingly became a little more cautious. Fox went further ahead at the par 3 second after a Mortimore bogey only to drop a shot at the next and see his lead reduced to 2 again. Holes were being traded and at the 4th Fox again went 3 up, a lead he maintained through 8. Mortimore won the 9th with a great approach setting up a birdie and sparking added excitement amongst the now swollen number of socially distanced onlookers.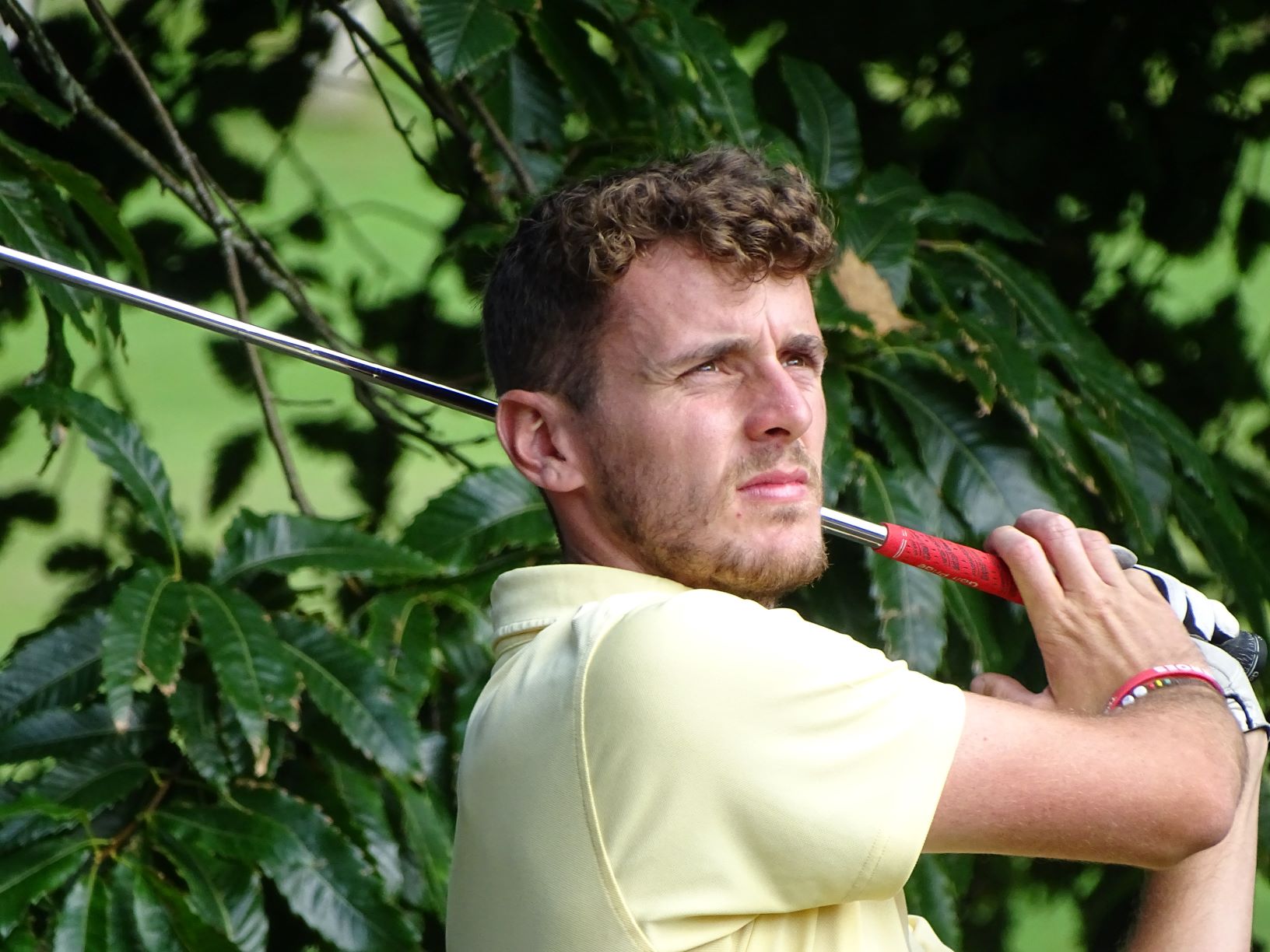 Yet again the next hole changed hands as a Mortimore bogey after missing the green right left him a tricky chip to the par 3 10th and although he played a good shot he was unable to convert the putt. Fox was 3 up again. Then Fox was out of position on the 11th and Mortimore took advantage with a good tee shot and approach - back to 2 down for him.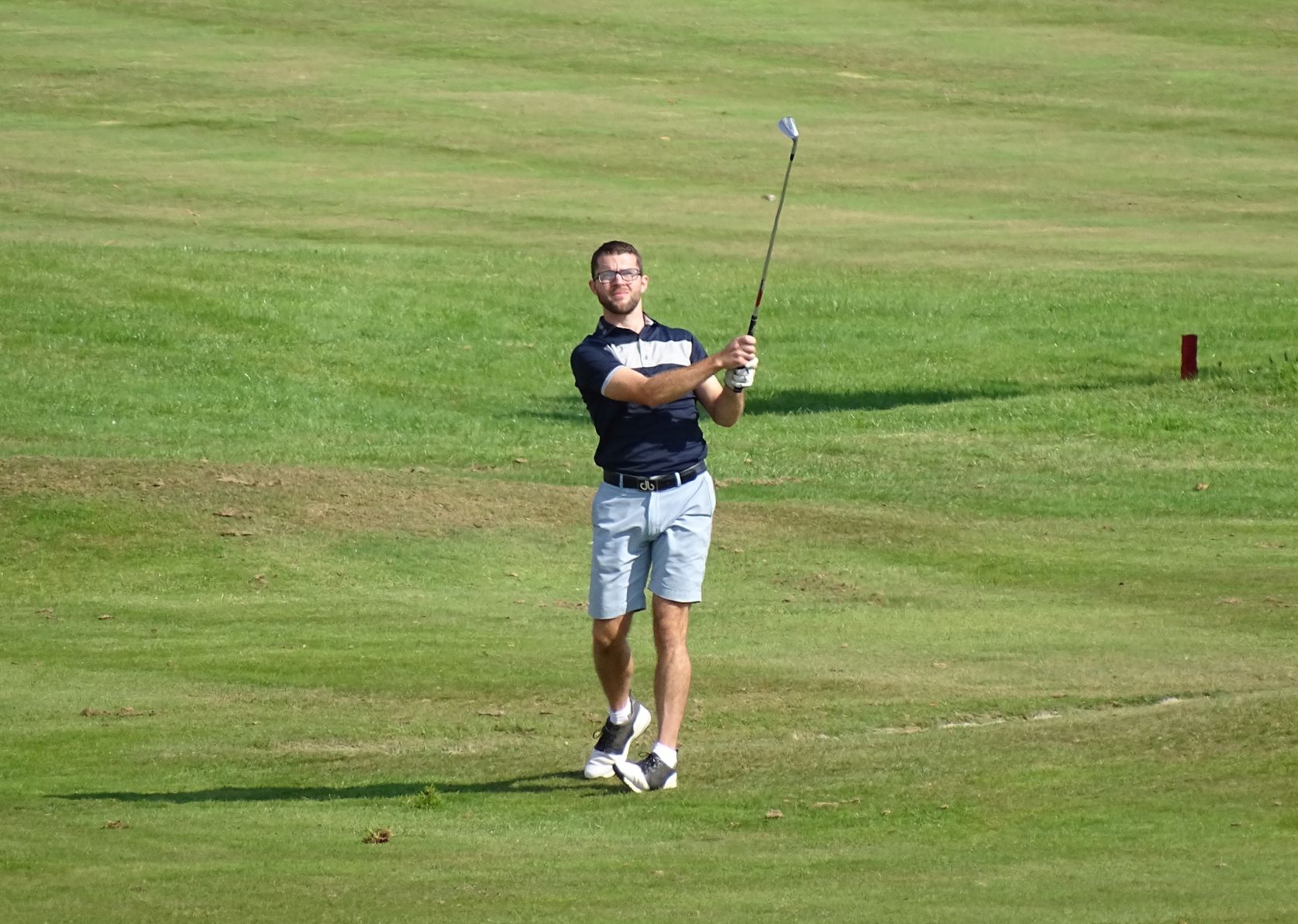 One more time the next hole changed hands although on this occasion Mortimore can count himself unlucky. Having gone long with his second a good chip saw him have a makeable putt which did all it could to get in the hole before agonisingly staying out. A straightforward well played par saw Fox once again at 3 up with Mortimore under increased pressure as the holes began to run out for him.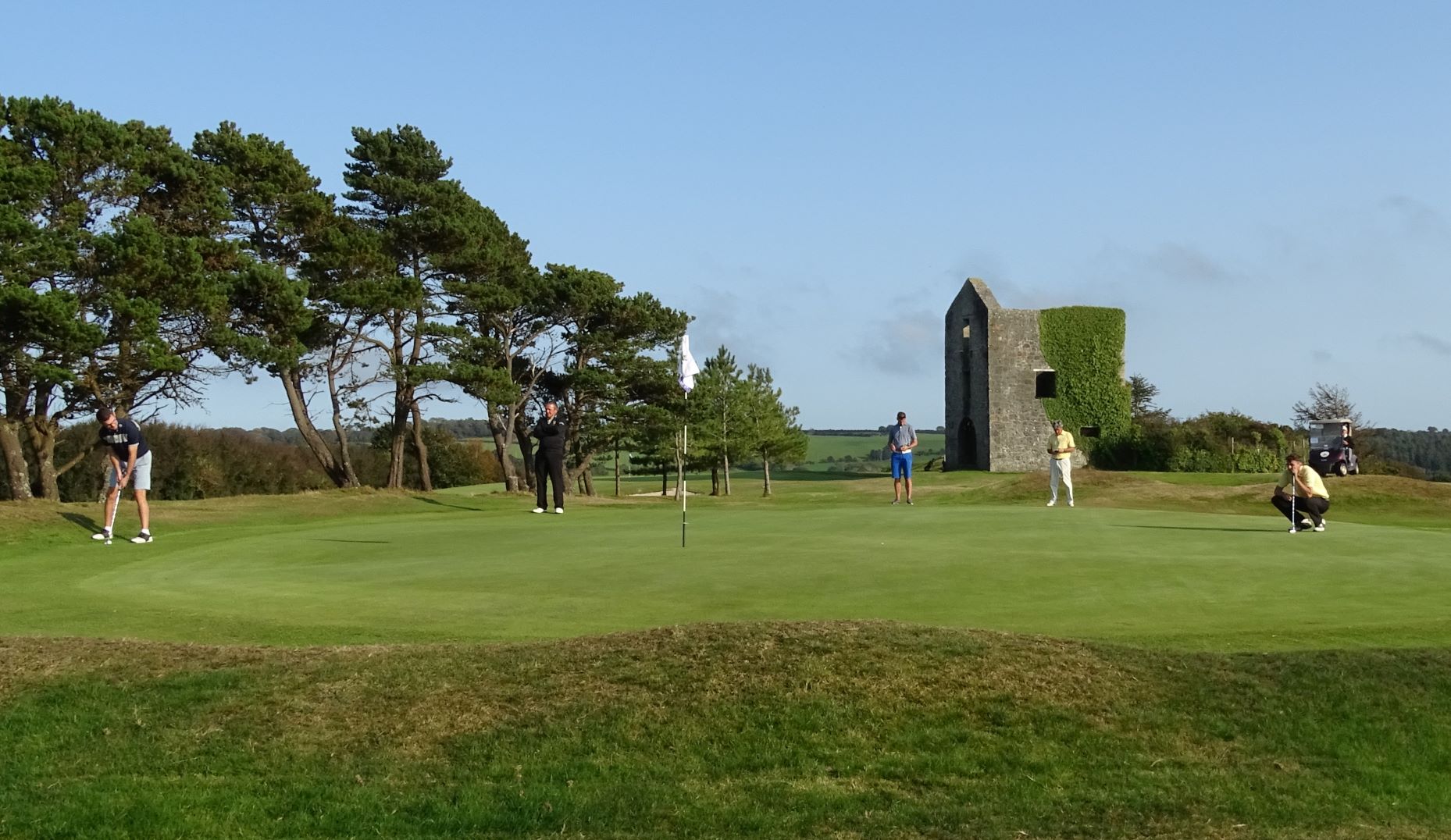 There was though no outward sign of the pressure on Mortimore at the par 4 13th. This time Fox lost his tee shot right and the eventual outcome was a concession. Fox remained 2 up. The watchers sensed this might be a turning point. However this time it was Mortimore who made the mistake pushing his tee shot into undergrowth to the right of the 14th. Although he found the ball and played out his bogey against Fox's sensible well played regulation par meant Fox again had a 3 hole lead. And one more time the next hole was traded as Mortimore found the tough 15th green in two whilst Fox uncharacteristically three putted the hole. Fox now 2 up with three to play.
Arguably one of the signature holes at St Austell - the short par 3 16th - now came into focus. Teeing off first Mortimore found the putting surface some 18 feet from the hole. When Fox also found the green (circa 12 feet), the tension was palpable. Perhaps thinking he needed to hole the putt Mortimore raced his attempt past the hole. Fox cosied his up to concession distance meaning Jared had to hole to keep the match alive. A miss meant Fox was the champion.
Fox was delighted with the win. Speaking after receiving his trophy he said 'I came here with no real expectations. I haven't played very much over the last three years due to the Royal Navy training. To shoot a low round in the qualifier was great but it wasn't until the matchplay stage that I really began to feel it with the adrenalin starting to flow. It's a long week and I am obviously pleased to have kept it going and to have won here at St Austell again. It's quite odd really as Jared has been away from the game for much the same time as me and to see him back competing is great. He has had a great week and shown he is back. He played well today so well done to him too.'
St Austell GC Captain Gary Hooper was pleased with how the week had gone. He said 'We are all very proud to have staged the week here. Especially as the invitation to do so came later than it would normally have done. There are a lot of people to thank for this and obviously Vince is one of them. He and his team have done a sterling job. We are honoured to have been asked to host and pleased to have had the county here. We hope to be able to do so again in the future.'
CGU President Andrew Clotworthy thanked St Austell GC for their exceptional hospitality and once again expressed the views of all the competitors - the course conditions had been first class. He praised the off course staff similarly and made particular mention of Secretary Ann Rowett whose efforts had not gone unnoticed.
Other photographs to follow .......