Mini Tour Update
Organiser Mark Hawkey has been busy ensuring alternative dates are in place to ensure the Mini Tour can be completed this year. Thank you Mark!
Confirmed dates are as follows:
Sunday 26th July *** Venue Changed to Merlin with a 1230 start - no Coaching ***
Monday 24th August Newquay GC
Sunday 13th September West Cornwall GC
Tuesday 27th October Trevose G&CC
Covid-19 Postponements
Due to the current Coronavirus situation a number of Junior fixtures have been postponed and for the minute these include the U12 Mini Tour events on Sunday 19th April at Trevose and Sunday 3rd May at West Cornwall.
We hope everyone stays safe and look forward to seeing you all again hopefully before too long. We will certainly be looking to resume the Mini Tour this year as and when conditions are safe and permitted.
U12 Mini Tour 2020 Gets Underway at St Enodoc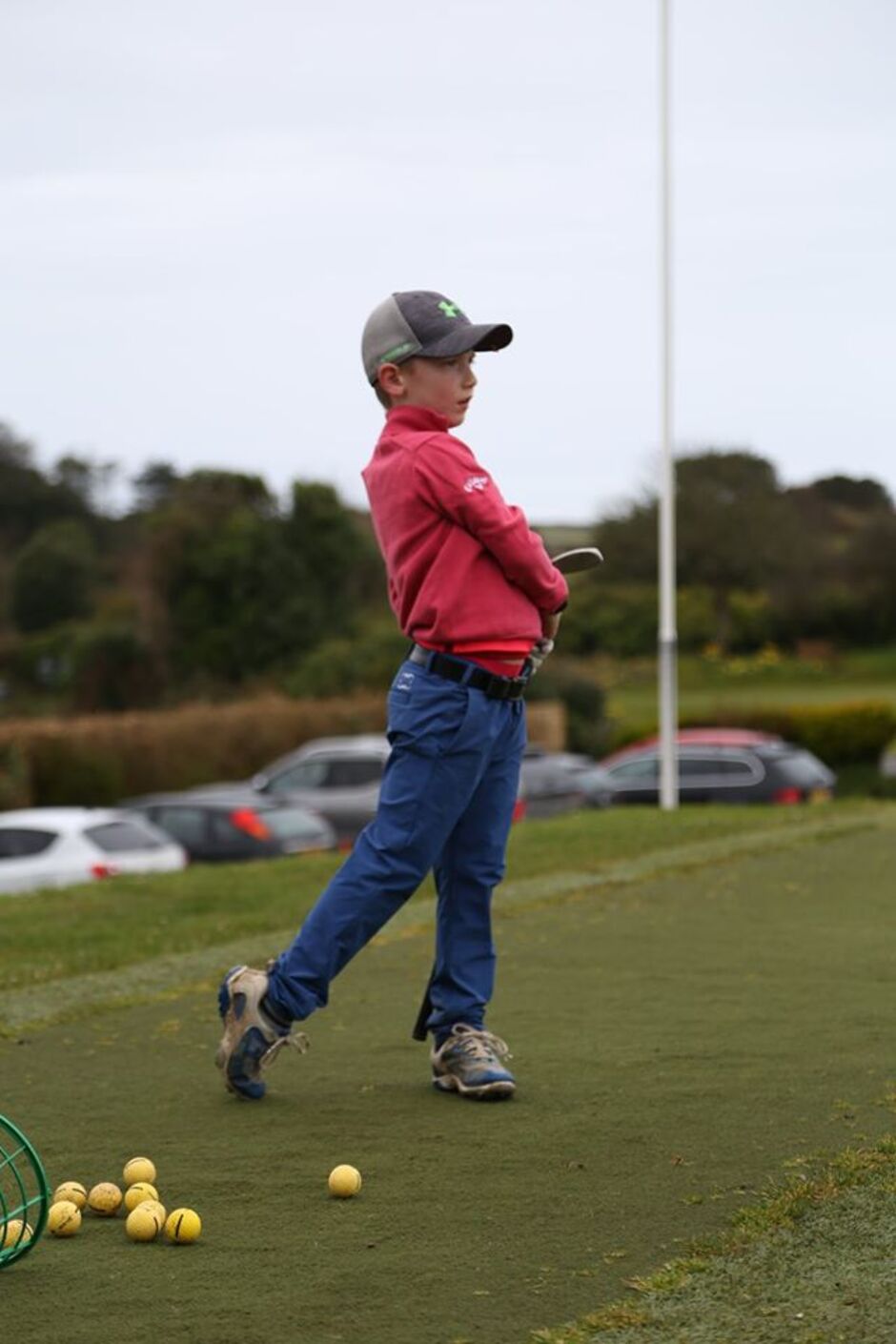 A fantastic day was had by all to start the U12s Mini Tour 2020. A huge thank you to St Enodoc Golf Club for letting us host the first event and for making us feel most welcome. Everyone enjoyed the coaching by Matt Tucknott with his wing man Sam!!! I would like to also thank Dave Watson who was our starter for today and I'm sure he offered his words of wisdom to you all. Finally, our man behind the lens, Mark Wallwork who captured some terrific photographs. A whole host of images can be found on the U12 Mini Tour Facebook page by clicking here
Now to the prizes, firstly the joint winners of the putting competition today were Tiernan from Tehidy Park and Jay from The Point at Polzeath who both had 14 putts.
The CONGU boys competition with some very impressive scores, in 1st place Ethan Kinski from St Mellion with 28 points, 2nd Thomas Richards from St Enodoc with 26 points, and 3rd Will Dingle from The Point at Polzeath with 25 points.
The CONGU girls section was a very close affair and winning on count back was Isabelle Wakeling from Killiow followed by Daisy Lane from St Enodoc both scoring 19 points.
In the Unassisted catergory, 1st place Theo Hubbard from Killiow with a nett 31, 2nd Isaac North from Trethorne with a net 32.
Finally in the Assisted catergory 1st place Milan Hodgson from Tehidy Park with a nett 32, 2nd Rory Hudson from West Cornwall with a nett 41 and 3rd Joseph Kevern from West Cornwall with a nett 43.
The gross prize today goes to Jack Welch from Whitsand Bay.
We thank everyone for attending today and look forward to seeing you all again next month at Trevose Golf Club.
2020 U12s Mini Tour Dates Announced
The dates of CGU U12s Mini Tour events for 2020 have been announced by Mark Hawkey who takes over the running of these for the New Year.
Mark, a well repected PGA Professional with over 30 years experiencce, brings a new style to the role and he has already been busy organising dates and venues for this popular series.
He is experienced in working with golfers of all abilities from the complete beginner to fellow golf professionals, having started his golf career at Perranporth Golf Club before moving to Tehidy Park as the Head Teaching Professional. He then moved with his family to be the Head Professional at the renowned Championship Links Course in Tenby South Wales where he worked for over 11 years, during which time he also established himself as a County Coach. Mark then moved back to his native Cornwall where he now coaches full time at Treloy Golf Club. He has been actively involved in coaching juniors in the Duchy since.
The first event will take place at St Enodoc GC on Sunday 15th March 2020.
Other dates:
Sunday 19th April 2020 - Trevose G&CC
Sunday 3rd May 2020 - West Cornwall GC
Sunday 14th June 2020 - Newquay GC
Sunday 26th July 2020 - Bowood Park GC.
Further information on the U12s Mini Tour will follow.
Superb St Austell Hosts Fantastic Final Day!
Well, our final event of the year was superb, as was the course and hospitality shown by St Austell Golf Club, as 50 of our Chinnydippers literally took over the club!
The day started early with coaching by Josh Hancock and Mark Hawkey, before the CONGU players tackled the back 9 holes, and those playing Golf Access played the front 9 holes. Many thanks to Alan Lund and Simon Ferguson Smith for starting, and to Ross Facey who set up the very entertaining putting and chipping competition.
Mr and Mrs Chinnydipper turned up with their range of clothing and accessories, and were kept busy all day. All the juniors enjoyed a meal in the clubhouse. Mike Ellis, the CGU President (pictured) joined us for the presentation, and the ever reliable Mark Wallwork was kept busy snapping away with his camera. So many people help to make this Tour a success and it is very much appreciated.
Before we get to the results, it is hugely important to recognise that all the kids who took part in this Tour are winners - I am sure there are new friendships, there were loads of smiles and a lot of fun was being had. This is how golf should be.... Fun, accessible to all and fun. Did I mention it should be fun?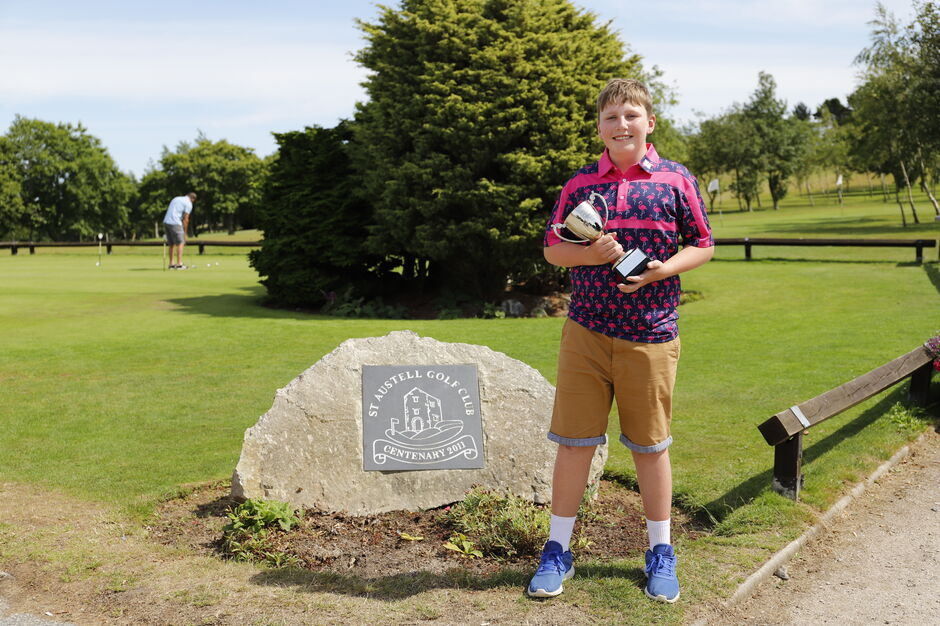 Archie Carnegie - U12 Mini Tour Order of Merit winner CONGU Boys
Event 5 Results
Assisted - 1st Milan Hodgeson 2nd Levi Sommerville 3rd William Uglow
Unassisted - 1st Joab Atkins 2nd Harrison Gurd 3rd Fred Kirkland
CONGU Girls - 1st Isla Coombes 2nd Sienna Hickling 3rd Daisy Lane
CONGU Boys - 1st Heath Coombes 2nd Archie Carnegie 3rd Jack Welch
Putting - Jack Welch Chipping - Jack Mallet
Tour Order of Merit
Assisted - 1st Levi Somerville 2nd Archie Ridgewell 3rd Isaac North
Unassisted - 1st Fred Kirkland 2nd Harrison Gurd 3rd Alfred Treeby
CONGU Girls - 1st Sienna Hickling 2nd Daisy Lane 3rd Charlotte Jenkin
CONGU Boys - 1st Archie Carnegie 2nd Heath Coombes 3rd Joss Bailey
That is all from the Tour this year, so keep playing and enjoying golf!


Reminder re U12 Mini Tour Rules
I thought it was another great event at Trethorne recently. However following comments following the day from some of the players, I think it is an appropriate time to emphasis some of the rules, and etiquette. It is so important to abide by these rules for a number of reasons. Please do so, as we really do not want to enforce any penalties or disqualifications in the final round at St Austell later this month.
CONGU CATEGORY
NO caddying - including pushing trolleys, handling clubs and advising
Scoring to be worked out by the players involved
Ball spotting - please ball spot for the whole group.
Please keep your distance from the players. By supporting your child you may inadvertently pressurise another player.

UNASSISTED CATEGORY

Please assist with equipment if needed.
NO help with club advice, or shots.
Advice on rules nay be given (they are here to learn!)
Scoring can be aided by adults.
Ball spotting - please ball spot for the whole group.

ASSISTED CATEGORY
Please assist with equipment if needed.
Full help with club advice, or shots, if needed.
Advice on rules nay be given (they are here to learn!)
Scoring can be aided by adults.
Ball spotting - please ball spot for the whole group.
It is also important to note that air shots are shots and should be counted.



Trethorne Torrents fail to stop Tourers!
Usually comments centre around what lovely weather we have during the Mini Tour Events. Not today. It rained. And it rained a lot...
However this did not deter the majority of our mini golfers as 45 of them took to the beautifully laid out Trethorne Golf Club. Seasoned golfers would have looked twice at the weather this afternoon but once the juniors had had their coaching from Matt Tucknott and Andy Welch, they were literally raring to go!
We were impressed. Very impressed and everyone completed their rounds!
So in the CONGU Putting, Tiernan and Heath tied for 1st place.
In the boys CONGU comp, Harry Wilmott had a fantastic round scoring 25 points off the 9 holes to claim his first tour victory.. In second came Joss Bailey with 23 and Harry Lusher continues his form with a highly credible 20 points.
The girls CONGU comp also saw some fantastic scores with Sienna Hickling once again topping the table with 20 points, Daisy Lane shooting 17 and Charlotte Jenkin 15 to come in 3rd place.
In the unassisted category, local boys Alfred Treeby and Joab Atkins both scored nett 41 with Joab sneaking into second on countback. In first place, not for the first time this tour, Fred Kirkland put in a fantastic nett 37. Alfred and Fred also won the putting competition.
In the assisted category, Levi posted a nett 42 to come 3rd but once again the local boys shone - with William Uglow scoring 42 to come second but way out in front was Isaac North carding a great nett 37.
Awesome results Chinnydippers! Very well done indeed!
U12 Ryder Cup Event
Monday 27th May 2019 Carlyon Bay GC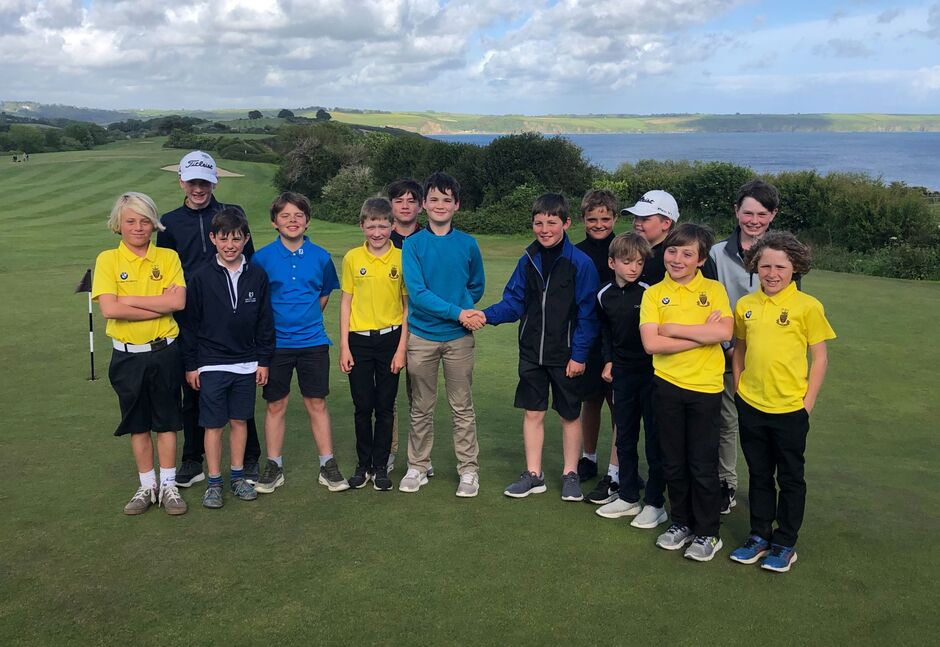 Both teams above as Captains Hugo Watson and Jack Welch shake hands
The Duchy U12 Ryder Cup event was held at Carlyon Bay today - 14 U12's playing 9 holes foursomes in the morning, and 18 holes of individual matchplay in the afternoon. Two teams of 7 led by County U12 Captain Hugo Watson, and his Vice Captain Jack Welch. We also had the added benefit of Director of Junior Coaching Matt Tucknott providing coaching and advice all day, which was very much appreciated.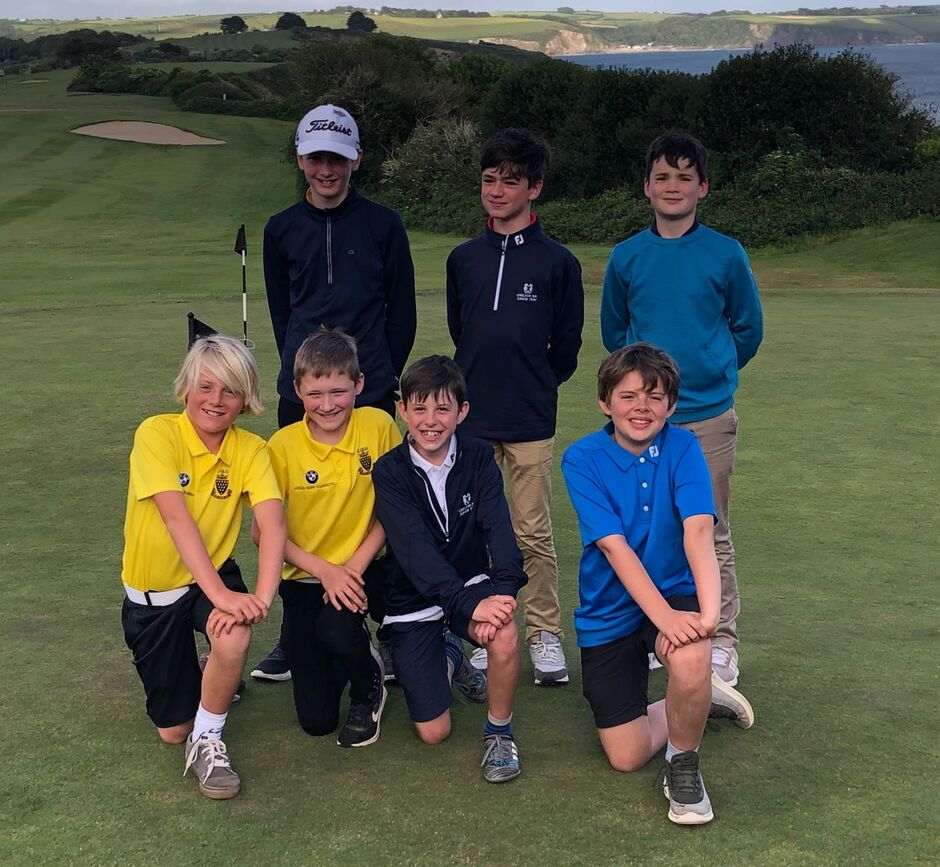 Hugo's Team
After the morning matches, Hugo's team held a slender 2 - 1 lead with Hugo and partner Jack Mallet, and Alfie Middlewood and James Tucknott taking wins with Thomas Miller and Finn Hendra scoring the point for the Vice Captains team.
The afternoon matches were a very tense affair, with the last match playing a pivotal role. Hugo led from the front with a good win. However Jack's team then won 3 matches on the bounce with Jacob, Tiernan and Thomas winning. The final 3 matches all featured local boys and Jack, and the resurgent Alfie scored important wins. The final match of Finn and Henry Barnett was tight all the way around. With Finn 1up on the 18th tee, Henry did well to win the hole and halve the match.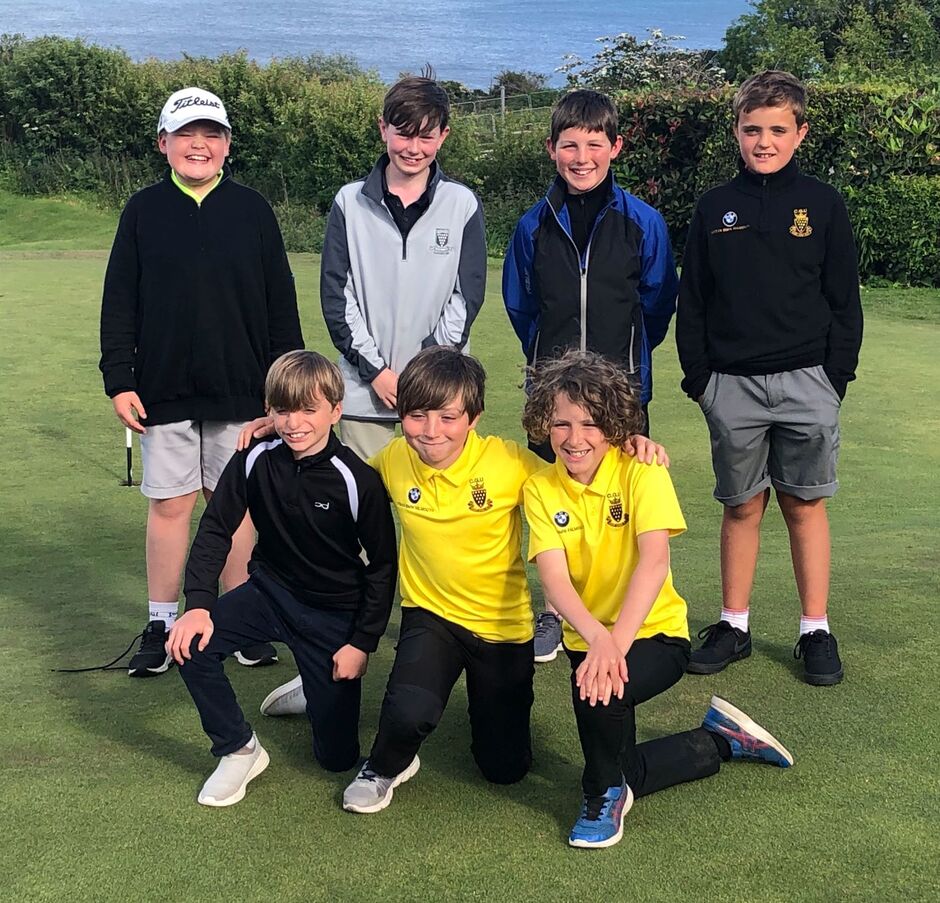 Jack's Team
This resulted in a win for the Captains side 5.5 to 4.5. In many ways the result is immaterial - friendship, leadership and teamwork were much more important.
The course played superbly despite the sunshine, wind and rain, and the clubhouse staff looked after the juniors extremely well.
Most of all it was fun, as golf should be. Well done all that took part!


Terrific Trevose
CGU U12 Mini Tour Carlyon Bay 21st April 2019
Our county U12's has another fabulous day at Trevose today! We are so fortunate to be able to use their fantastic facilities., and we are truly thankful to the genoristy of Nick Gammon and his team. Once again our coaching professionals Matt Tucknott and Josh Hancock put the youngsters through their paces on the chipping practice area. before they were let loose on the two 9 hole courses.
The coaching obviously worked as well, as you can see. Despite the breeze and the initial cold before the sun came out, some of the scoring was fantastic. It is worth noting here the help that parents give inmaking this Mini Tour successful. We have a team of Steve Hurst and Simon Prior, whose help is always invaluable in managing the cards and checking scores. Thank you to you both.
Thank you also to Simon Wood and Steve Hurst for starting the juniors on their rounds. Simon, the creative mind behind the development of Golf Access also stayed on to present the prizes to the assembled throng.
We had a 3 way tie in the putting Comp, each having 3 aces - congratulations Archie, Jay and Bradley.
In the assisted category, the scoring was competitive - 1st Levi Somerville 34, 2nd Archie Ridgewell 35 and in 3rd was Alfie Sanders with 36.
The unassisted category saw Fred Kirkland win with 37, Harrison Gurd coming 2nd with 38, and Todd Boumphrey carding 41.
The congu girls saw some extraordinary scoring. Sienna Hickling produced a fantastic 29 points, Isla Coombes scored 24 points just pushing Daisy Lane back into third on countback.
The boys also had a very tense competition. Archie Carnegie took first with 21 point, beating Heath Coombes on countback. Kian Williams put in a great performance to come third with 20, beating 3 other with 20 on countback.
Great venue, great friendships, and great golf. Another example of junior golf at it's very finest.
Chinnydippers Calm Carlyon Bay...
CGU U12 MIni Tour Carlyon Bay 21st April 2019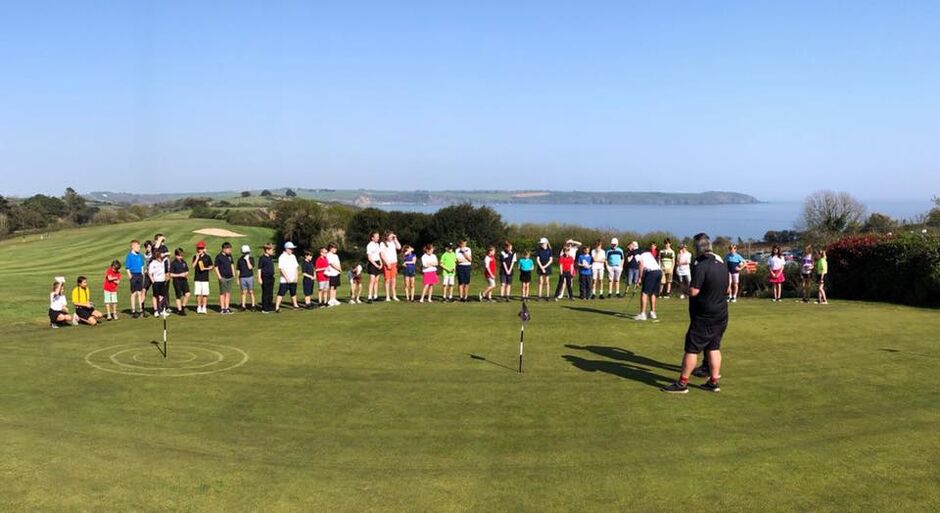 Our U12 golfers had the pleasure of playing Carlyon Bay Golf today on what was simply a warm, and breath taking day. As usual, birthday boy Matt Tucknott and Josh Hancock provided some first class coaching on the short course prior to the tee times. County president Alan Lund oversaw the first tee as is now customary.
With the course starting to firm up, we were expecting some good scores and we were certainly not disappointed.
In the Boys Congu, Thomas Richards took first place with 24 points, Jay Dingle in second with 21 points beating local boy Hugo (lowest gross of 38) who also scored 21 points.
It was Sienna Hickling who won the girls section with 20 points, Charlotte Jenkin (lowest gross of 52) in second with 19 points and Ella Grace Crocker with 18.
In our Unassisted Golf Access category, Fred Kirkland from Tehidy took 1st place with a nett 41. Alfred Treeby (lowest gross of 45) placed second with a nett 42, and Harrison Gurd with a nett 43.
The Assisted Golf Access section saw some remarkable scores! Archie Ridgewell placed first with a nett 32, Alfie Sanders with a nett 37 in second and finishing in 3rd was William Wilcocks with a nett 38. Well done to young William Uglow who scored the lowest gross of 44.
After the prresentation, the pressure was well and truly on Josh Hancock as he was putting to beat the best child's score to win 48 Easter Eggs. Luckily the kids won, and the eggs were shared.
We had a lot of help putting on this day, with golfing parents from Tehidy, St Austell, Carlyon Bay, Radnor and Tehidy all chipping in. Thank you all for a wonderful day. Happy Easter!
Duchy U12's begin 2019 Tour at St Enodoc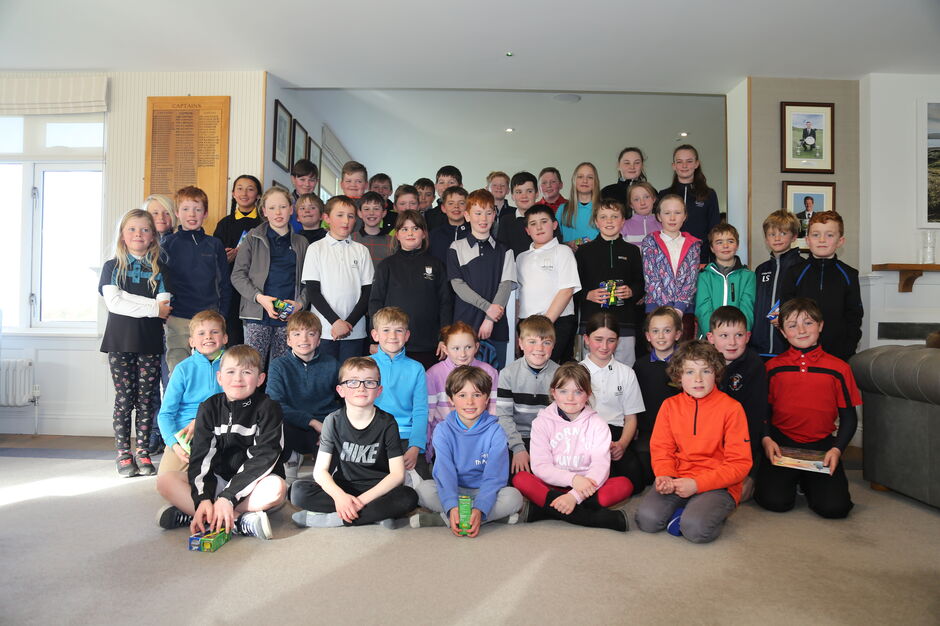 Granted, it wasn't the warmest day we have ever had but at least it it didn't snow like last year! Weather aside, what a day was had by 50 of the aspiring U12 golfers in the County. We had it all with some tremendous scoring across all the categories. This year the County laid on short coaching sessions with Cornwall Director of Junior Coaching Matt Tucknott, and stalwart Mark Hawkey, coaching 40 juniors before they even set foot on the Holywell Course.
Continuing his long standing tradition, Juniors President Alan Lund braved the wind and rain for 2 hours ensuring that our youngsters made it onto the course safely. And then it was up to the golfers. Admin, form filling, coaching, safeguarding and starting had all been completed and it was then up the children to show us what they could do. Little could we foresee the scores that came in!
The Golf Access assisted category was won by William York from Tehidy with a nett 27, followed by Levi Somerville (33) from Newquay and Will Dingle (35) from the Point gathering 3rd place.
In the Golf Access unassisted category, Adele Boumphrey from Whitsand Bay won with a nett 33, from Alfred Treeby from Trethorne (34), and Harrison Gurd (38) mopping up 3rd.
The CONGU girls section also had some terrific scoring (and no doubt significant handicap adjustments). Sienna Hickling from Newquay taking first place with 28 points, Genevieve Facey from St Austell coming second with 27 points and young Charlotte Jenkin from West Cornwall continued her progress with 23 points.
And the boys CONGU have got the handicap lephrechaun looking for more pencils! In first place was Joss Bailey from Budock Vean with 29 points. Outstanding! In second was young Jack Mallet with 26 points continuing his almost vertical handicap decrease. In third with a mere 24 points (!) was Harry Lusher from St Mellion. Jacob Murphy from West Cornwall only missed out on 3rd place by virtue of countback.
Tiernan Wallwork from Tehidy won the putting competition, whilst Hugo Watson and Hannah McGrath recorded the lowest gross scores in their categories.
Thank you very much to St Enodoc for allowing us to use your course and facilities, it was awesome! And also many thanks to Nick Williams, the Club Professional who kindly provided use of the range and the balls used for coaching completely free of charge. Thank you to the club house staff, who had to deal with a buzzing environment, and a continuous stream of cheesy chips.
Junior golf at it's very finest.
U12s Five Counties - Cornwall Finish Fourth
U12 Five Counties Tournament , Sunday 23rd September 2018, Wheathill GC, Somerset
Cornwall U12s finished fourth of the 5 counties competing in the second year of the championship introduced especially for these budding golfers, and which took place this year at the parkland venue Wheathill GC in the far east of Somerset. With the best 4 from 6 scores to count Cornwall finished on a total of 145. Winners were Dorset with a massive 191 from runners up Wiltshire (183). Third spot went to Devon on 148 with host county Somerset just the one point behind Cornwall.
The Cornwall team were led by Harry Richards (Carlyon Bay) and the U12s Captain did his bit top scoring for the Duchy with 39 points. Richards was accompanied by Harry Taylor (St Mellion, 35), Hugo Watson (Carlyon Bay, 36), Harry Drewett (Falmouth, 35), Thomas Miller (Truro, 35) and Jack Welch (Whitsand Bay, 33).
U12s Boys Beaten by The Girls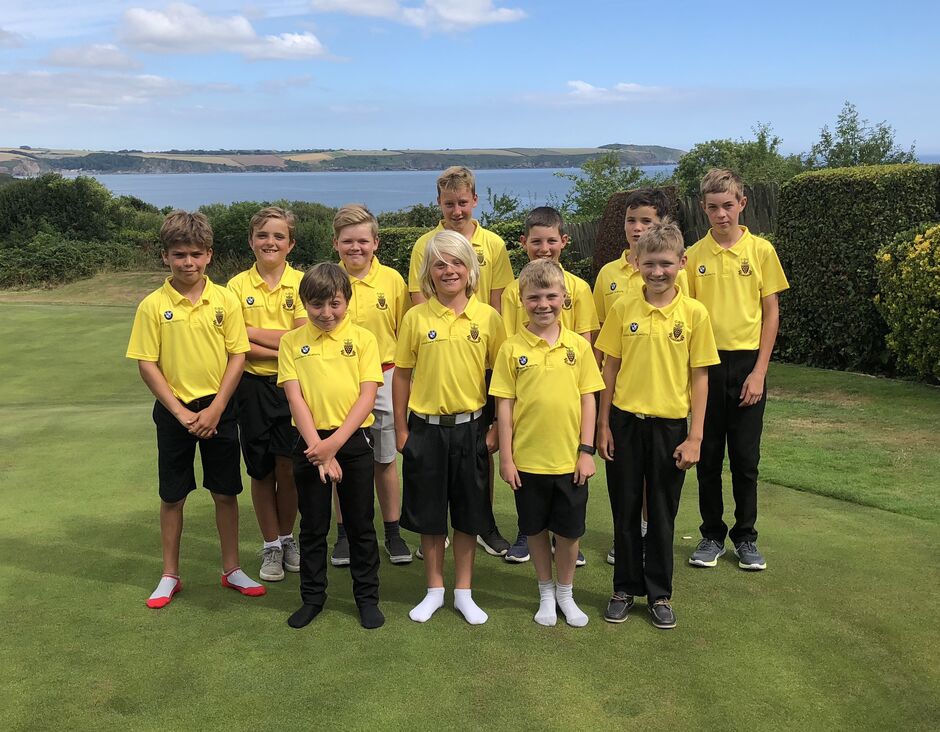 The CGU U12 squad-pictured above - and the CLCGA U14 team competed today on a sun drenched but beautifully presented Carlyon Bay Golf Course.
The first 6 players from each team played an individual matchplay, and the girls played superbly to win overall with 4 .5 points to 1 .5 points. There were some great battles out on the course along with some pretty terrific golf.
Young Quinn Bateman played 18 holes of stableford with Daisy, as the rest of the squad played 9 holes of stableford. It was the boys who won this section with a terrific combined scores of over 100 points.
After the match the players all enjoyed traditional golfing tucker which was, as always, excellent.
The best thing about today? The children all enjoyed the day....it was relaxed, fun and everyone talked to each other. .......... Just as it should be!
Picture - (Back row L to R: Wilf Gammon, Tommy Miller, Xander Spratt, Harry Richards, Jack Welch, Hugo Watson, Harry Drewett. Front row left to right - Tiernan Wallwork, Heath Coombes, Quinn Bateman and Alfie Middlewood.
West Cornwall Wows U12's!
West Cornwall Golf Club was the perfect host for the finale of the CGU U12 Mini Tour on July 22nd. The course was spectacular, the weather once again roasting and there was a palpable sense of anticipation in the air.
Over 50 children competed in their respective categories, and enjoyed a great meal before the presentation. Mike Ellis, the CGU President, and Alan Lund, the CGU Juniors President took charge of the prize giving in front of a packed club house.
The Event Prizes
SCRAMBLE - Thomas Miller (Truro), Jack Welch (Whitsand Bay) and Harry Richards (Carlyon Bay)
CHIPPING - Jack Welch (Whitsand Bay)
PUTTING - Tristan Woolcock (West Cornwall)
PRESIDENTS CHOICE - Tristan Woolcock (West Cornwall)
Boys CONGU
1st Hugo Watson (Carlyon Bay) 22 points
2nd Harry Taylor (St Mellion) 18 points
3rd Harry Drewett (Falmouth) 18 points
Girls CONGU
1st Hannah McGrath (Carlyon Bay) 16 points
2nd Daisy Lane (St Enodoc) points 13 points
Unassisted Golf Access
1st Ella Grace Crocker (Carlyon Bay) nett 52
2nd Jack Mallet (Carlyon Bay) nett 57
Assisted Golf Access
1st William Uglow (Trethorne) nett 39
2nd Sienna Hickling (Newquay) nett 39
3rd Isaac North (Trethorne) nett 41
And so to the overall Championship Results , with the best 4 from 5 scores to count...
Boys CONGU
1st Harry Taylor (St Mellion) 39 points
2nd Wilf Gammon (Trevose) 38 points
3rd Alfie Middlewood (Carlyon Bay) 37 points
Girls CONGU
1st Hannah McGrath (Carlyon Bay) 60 points
2nd Daisy Lane (St Enodoc) 58 points
Unassisted Golf Access
1st Ella Grace Crocker (Carlyon Bay) 60 points
2nd Jacob Murphy (West Cornwall) 54 points
Assisted Golf Access
1st Joss Bailey (Budock Vean) 54 points
2nd Sienna Hickling (Newquay) 40 points
3rd Harrison Gurd (Perranporth) 39 points
Many thanks to our sponsors Chinnydipper and Golf Access, to Mark and Jim for the photography work, our officials and helpers, and especially Andrew for his dedication today.
Well done to all the players, and have a wonderful summer! Keep practicing and playing!
Tehidy Park is a Winner for the U12's!
60 Juniors, blazing sunshine, nervous parents, England wining a football match and a putt off can only mean one thing.... Round 4 of the U12 Mini Tour at Tehidy Park Golf Club.
The Presidents Choice Award was given to young Charlotte Jenkin from West Cornwall Golf Club for her competitiveness, determination and cheerfulness.
The Putting was won by Xander Spratt after beating Archie Carnegie in a very tense putt off in front of a lot of people! Well done both.
James Tucknott won the chipping by a considerable margin, and it was great to see his smile.
In the Girls Category:
1st Daisy Lane - 21 points
2nd Hannah Magrath - 19 points
In the Assisted Category:
1st Joss Bailey - nett 39
2nd Charlotte Jenkin - nett 42
3rd William Ugow - nett 43
In the Boys Category:
1st Harry Taylor - 20 points
2nd Heath Coombes - 19 points
3rd Tiernan Wallwork - 19 points
In the Unassisted Category:
1st Jacob Murphy - nett 43
2nd Ella Grace Crocker - nett 47
There was some great golf today, a lot of smiles, excellent behaviour, and a lot of cheering (mainly at the football). That folks is what golf is all about. Having fun in a relaxed environment with friends you will keep for a long time.
Huge thanks must go to Tehidy Park for giving us the course today, to the help provided by their active junior organisers, and to Matt Tucknott and Simon Wood for acting as starters. Simon Wood runs the Golf Access company who have sponsored the Tour for the non CONGU juniors by providing their unique scoring system for free. I have got to admit, it is working beautifully! Also to our other sponsors who allow these events to happen.
24/6/18
Terrific Trevose
Sunshine, a beautifully presented array of courses, and 59 excited U12's must mean but one thing - the Tour was at Trevose!
On the tricky short course, the assisted and unassisted categories were started by Sue from the CLCGA which gave her the opportunity to choose the Golf Foundation Presidents Choice. The Congu categories played the longer Headland Course, and we saw some pretty special scores roll in.
The winner of the Golf Foundation Glassware was William Uglow. Always immaculately presented, cheerful and polite! Xander won the putting comp with a very good 14, including a number of hole in ones!
Finley won the unassisted category with a nett 38, with Ella Grace coming 2nd with a nett 40. The assisted category was won by Harrison Gurd with a staggering 6 over gross, nett 26, and 2 twos as well. Young Isla from Newquay came 2nd with a nett 30, and Joss from Budock Vean continues his development with a nett 31.
The Girls Congu was won by Daisy with a terrific 23 points, whilst Hannah scored 19 to come second. The Boys Congu saw club member Wilf win with 24 points, Alfie 2nd with 23 points just beating Borja on countback.
Scoring was great, behaviour was great, and the courses were... well.... great! A wonderful day! Thank you Trevose!
20/5/18
U12's tame Newquay
Well that was a day of 2 halves.... rain and strong headwinds developing into very warm sunshine. Anyway the initial weather did not detract from a cracking day at Newquay with some of the juniors posting some terrific scores!
Scramble - was won by Jay Dingle, Tiernan Wallwork and Dan Faulkner
Chipping - Ella Grace Crocker and Charlotte Jenkin
Putting - Harry Taylor and Sienna Hickling
Assisted Category
1st - Logan Trezise (Budock Vean) nett 30
2nd - Will Dingle (The Point) nett 32
3rd - Sienna Hickling (Newquay) nett 33 c/b
Un-Assisted Category
1st - Jacob Murphy (West Cornwall) nett 36
2nd - Jessica Prior (St Austell) nett 38
Girls CONGU
1st - Hannah McGrath (Carlyon Bay)22 points
2nd - Lizzie Nile (Carlyon Bay) 16 points
Boys CONGU
1st - Alfie Middlewood (Carlyon Bay) 22 points
2nd - Heath Coombes (Newquay) 21 points
3rd - Jack Welch (Whitsand Bay) 21 points c/b
The Presidents Choice winner of the Golf Foundation Skills for Life went to Olivia Hurst for a good sense of humour!
We even had some twos and congratulations should go to Joss Bailey (Budock Vean) and Sienna Hickling (Newquay).
A fantastic day made all the better by really good behaviour by all, especially the adults!! Many thanks must go to Alan Lund, the Juniors President, who continues to give up his time to act as starter, and of course to Newquay for their generosity. It is very much appreciated!
22/04/18
U12s Take on the Bay!
Saturday 31st March 2018 Carlyon Bay GC
Following the recent snow that curtailed the first U12 event at St Enodoc, the rearranged competition at Carlyon Bay was played in unusually dry and sometimes even sunny weather. With 50 young golfers taking part, the event was a fantastic opportunity to play a lovely course with some spectacular views of St Austell Bay. As usual, the behaviour and attitude of the players was first class, as was some of the golf that was witnessed by the officials from the CGU and CLCGA.
In the assisted category, we saw 3 new faces introduce themselves to the golfing world:
1st Joss Bailey (Budock Vean) nett 20
2nd Harrison Gurd (Perranporth) nett 21
3rd Luke Roberts (Tehidy) nett 31
The assisted category saw some familiar faces:
1st Ella Grace Crocker (Carlyon Bay) nett 38
2nd Harry Willmott (Newquay) nett |42
The Girls Congu category included newcomer Lizzie, and last years champion:
1st Lizzie Nile (Carlyon Bay) 16 points
2nd Emma Longley (Trevose) 12 points
The Boys Congu category was very close with 3 veterans taking the top prizes:
1st Thomas Miller (Truro) 21 points
2nd Borja Arbones (Falmouth) 18 points
3rd Wilf Gammon (Trevose) 17 points
Hugo Watson (Carlyon Bay) won the chipping competition, and the putting challenge was won by Tristan Woolcock (West Cornwall).
The presentation was managed by CGU Juniors President Alan Lund, who also spent 2 hours as starter. The clubhouse was packed which was wonderful to see. This year the CGU, in conjunction with The Golf Foundation, introduced a Skills for Life award. This is not nessarily a traditional golfing award but is more targeted towards identifying key skills such as honesty, cheerfulness, manners and attitutude. The deserved winner of the glass trophy, and four ball on The Famous Nine Course was Kai Dingle (The Point). It was awarded for his very polite and cheerful demeanour.
Many thanks to our sponsors Chinnydipper and Golf Access, and to Carlyon Bay for the use of their course and their great hospitality.