Brian Gripe Knockout Format to Change
The CGU Junior Committee have looked at the recent format of this competition and as a result of low entry levels have decided there should be a change for 2022.
This years competition will become a Singles Match Play Knockout.
The top 16 gross scorers at Rd 2 of the CGU Junior Order of Merit event at Mullion GC (19th April 2022) will be invited to take part in what will form this year's Brian Gripe Summer Knockout competition. The 16, once confirmed as willing to take part, will enter a singles Match Play knockout with a draw to take place before the first round and thereafter once every round is complete.
Should a player not wish to take part his or her spot will be offered to the next best scorer at Mullion.

One player will be drawn at home on each case with the final to take place at a venue to be confirmed. This means a maximum of 4 Match Play fixtures with one round to be played at the latest by the end of May, June, and July respectively.

The CGU will provide contact details of players involved to those competing in this competition. Thereafter players must arrange matches between themselves.

Traditional Match Play Rules of Golf will apply throughout and Handicap Allowances for matches will be full difference. In general, after handicap allowances have been applied in match play formats, the player with the lowest Playing Handicap plays off zero strokes relative to the other player. The other player receives the difference between their own Playing Handicap and that of the player with the lowest Playing Handicap.

Falmouth Bag Gripe for First Time
Falmouth Juniors won the Brian Gripe Junior Summer Knockout trophy for the first time in the club's history after beating West Cornwall at Tehidy Park in the 36 hole final. (12th September 2021)
The Falmouth team of Maisie Drewett, her brother Harry and Junior Captain Will Sercombe put in a great shift of scratch golf in the matchplay final against a plucky and strong West Cornwall team.
Going out in handicap order Harry Drewett was up against and although he led for periods in the match, he eventually went down 2&1. Over to Maisie!
Maisie played against Ethan Tempest and played very well in being 2 under gross over the 33 holes it took to win her match 4&3. In total Maisie managed 9 birdies. With honours even it was now down to the third match to determine the overall result.
Sercombe duly did the Captain's role delivered the goods for his team with a 4&3 win over James Tucknott.
CGU Juniors President Matt Tucknott presented the trophy to Falmouth along with prize vouchers for both teams who enjoyed a meal together post-match.
Thanks must go to Tehidy Park for their hospitality , the condition of the course and their customary excellent catering.
Pictures on Main CGU News page.
Brian Gripe Junior Summer Knockout 2021
***Update 2nd September 2021***
The 36 hole final of the Brian Gripe Junior Summer Knockout will take place at Tehidy Park GC on Sunday 12th September between Falmouth and West Cornwall. Tees are reserved at 0800/0801 & 0820 and again at 1230/1240 & 1250.
***Update 22nd August 2021***
One semi final has taken place, the result of which was Falmouth 2 - 1 Perranporth.
Falmouth will play West Cornwall in the final after Bude conceded their semi final match to West Cornwall.
Only 6 clubs have entered this year's competition (one down on 2020) and a draw has taken place.
Carlyon Bay are to play Falmouth (at Truro) Carlyon Bay 0 - 3 Falmouth
West Cornwall are to play Tehidy Park (at Perranporth) West Cornwall 2 - 1 Tehidy Park
Perranporth and Bude & N Cornwall received byes.
Further details (draw, rules and match sheet) can be found in the sidebar.
Carlyon Bay Capture 2020 Gripe Trophy
Brian Gripe Junior Summer Knockout Final Tuesday 1st September 2020 Launceston GC
Carlyon Bay juniors continued a great vein of form in recent years with another win yesterday. This time it was the Brian Gripe Junior Summer Knockout title as they defeated Tehidy Park in what turned out to be a tense finale.
In a year affected by so many external factors, to be at Launceston in the sunshine was a joy for all concerned. For Tehidy Park this was a match in which they were forced to start from a difficult position with two regulars missing from the team which had got them to the final. With a three man matchplay format they were already underdogs and up against the odds. But they did themselves proud and on another day might even have pulled off what would have been a famous victory. It was though not to be.
Carlyon Bay - with Lewis Gay having to remain on the sidelines - started a point to the good but when Tehidy's Sam Williams provided an excellent win out in the country against Sam Ward the overall match was squared at 1-1.
All eyes rested on the final match between Carlyon Bay's Alec Nile and Tehidy's Matthew Lamb. Nile had got himself into a good position at 3 up with 4 holes to play and seemingly things were heading the way of the Bay. Lamb though had other ideas and clawed back two holes to be stood on the 18th at just one down. And everyone who has ever played Launceston know s anything can happen on the par 5 last hole. The two players both hit long tee shots but both were affected by lies either adjacent to or impacted by trees on the far side of the dogleg. Nile could only punch one down the fairway but Lamb (pictured above) hit an excellent second , the aftermath of which was his 5 iron making loud contact with the timber in front of him. The ball though found its way perfectly into the short fringe on the right hand side of the green. When Nile pulled his third left into the fringe, it looked for all the world like extra holes would be needed.
Yet again golf supplied a surprise though. Lamb chipped to some 3 feet beyond the hole and Nile pitched just inside that. Lamb putted first and agonised as his putt slid by the hole. Nile then holed out to maintain his one hole advantage and close out the match.
The Carlyon Bay team were presented with their trophy by CGU Juniors President Matt Tucknott. A big thank you to Launceston Golf Club for looking after everyone so well - both on and off the course.
(Pictures in Junior News Section)
Tehidy Beat Bude
Friday 21st August 2020
Tehidy Park moved into the Summer Knockout semi final with a 2-1 win over Bude & North Cornwall at Perranporth yesterday. Tehidy will now play Perranporth for a place in the final.
Carlyon Bay win against Falmouth
Monday 17th August 2020
Carlyon Bay booked their place in this years final with a 2-1 win over Falmouth at Tehidy Park on Monday.
We now await a replay of the previously abandoned match between Tehidy Park and Bude & N Cornwall (now taking place Friday 21st August at Perranporth), the winners of which will face Perranporth for a spot in the 1st September Final at Launceston GC.
Falmouth Beat Truro
Friday 14th August 2020
Falmouth moved into the semi final of the Brian Gripe Junior Summer Knockout with a 2-1 win over Truro at West Cornwall GC yesterday evening. Falmouth will now play Carlyon Bay for a place in the final which will take place at Launceston GC on Tuesday 1st September 2020.
The other quarter final match between Tehidy Park and Bude was scheduled for earlier this week but had to be abandoned due to fog. Perranporth await the winners of this match.
Perranporth overcome West Cornwall
Friday 17th July 2020
Perranporth ran out winners against West Cornwall in the Junior Summer Knockout last night by a 2-1 scoreline and after extra holes. For Perranporth Cameron Gurd eagled the 18th to take Jack Kevern to extra holes and it was Cameron who came out on top at the 1st of those holes. Perran's second winner on the night was George Law who achieved a hole in in one at the Truro neutral venue course's 12th hole and this saw him move on and beat Jonty Jenkin 6&5. Consolation for West Cornwall came in the from of Ethan Tempest who beat Will Hardwick by the odd hole. Perranporth will now face the winners of the match between Tehidy Park and Bude.
Update (29th May 2020)
At this stage it is intended this competition be completed providing restrictions permit. There are only 7 teams entered and a limited number of games to complete in singles matchplay with teams of just 3 players. A consideration though is the matches are played at neutral venues and restrictions currently existing at some clubs would have to be altered allowing visitors. We will keep you updated.
Brian Gripe Junior Summer Knockout 2020
The draw for this year's competition took place at Junior Committee in February.
Truro are to play Falmouth (at West Cornwall)
West Cornwall are to play Perranporth (at Truro)
Tehidy Park are to play Bude & N Cornwall (at Perranporth) .
Further details (draw, rules and match sheet) can be found in the sidebar.


Brian Gripe Junior Summer Knockout 2019
Draw:
West Cornwall v Perranporth to be played at Tehidy Park GC
Falmouth v Carlyon Bay to be played at Truro GC
St Austell v Tehidy Park to be played at Perranporth GC
Truro received a bye.
These (in effect Quarter Final) matches to be played by 30th June 2019.
Quarter Final Results
26.04.2019 West Cornwall 0 - 5 Perranporth
21.06.2019 Falmouth 1 - 4 Carlyon Bay
St Austell conceded to Tehidy Park
Semi Finals (to be played by 31st July 2019)
Perranporth 4 - 1 Carlyon Bay at West Cornwall GC on 30th July
Truro v Tehidy Park conceded by Truro to Tehidy Park
Final:
Perranporth 3.5 - 1.5 Tehidy Park
Brian Gripe Junior Summer Knockout 2018
CGU Junior Summer Knockout 2018
(for the Brian Gripe Trophy)
6 Clubs entered this year's competition - Carlyon Bay, Falmouth, Perranporth, St Austell, Truro and West Cornwall. Falmouth and Truro received byes in the draw and progress direct to the semi-final stage
Quarter-Finals
Carlyon Bay 2 - 3 West Cornwall [played at Perranporth GC on 28th June 2018]
Perranporth 4 - 1 St Austell [played at Carlyon Bay GC on 29th June 2018]
Semi-Finals
Falmouth 3 - 2 West Cornwall [played at Tehidy Park GC on 9th September 2018]
Perranporth 3 - 2 Truro [played at Tehidy Park GC on 20th July 2018]
Final
Perranporth 4 - 1 Falmouth [played at Truro GC on 23rd September 2018]
For report see Junior News page.
TRURO WIN 2017 SUMMER KNOCKOUT TITLE
Truro Juniors yesterday claimed victory in the 2017 Brian Gripe Junior Summer Knockout Final defeating West Cornwall at Tehidy Park GC 4.5 - 0.5. In doing so they reversed the result of last years final where the honours had gone to the West Cornwall club. The two teams are pictured below just before they set out in the 36 hole final.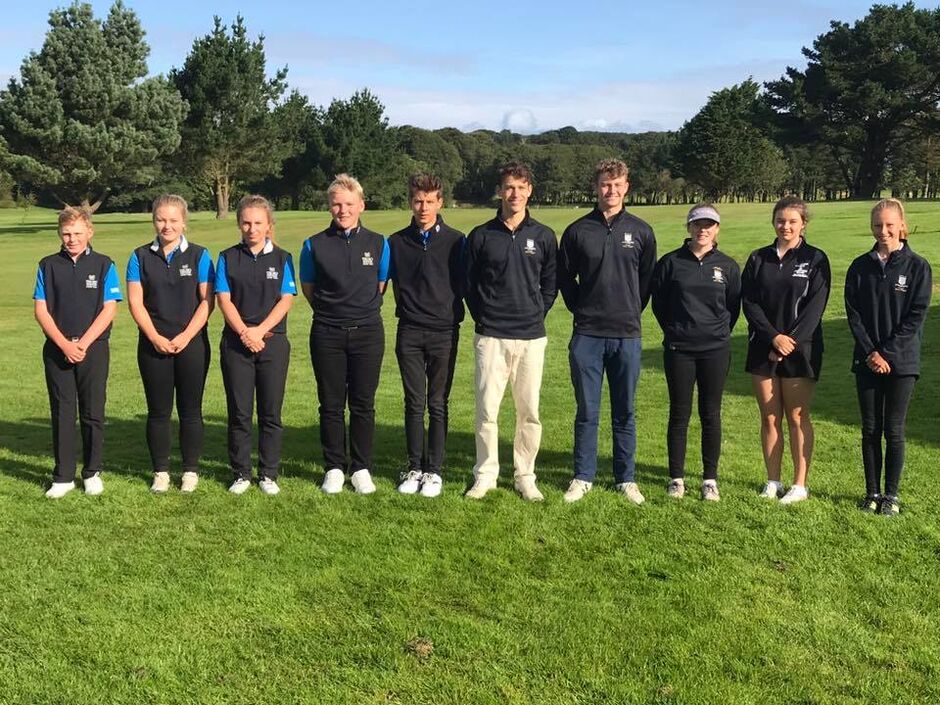 L to R: (Truro) Thomas Stephens, Laura Andrew, Olivia Trewelha, Josh Hodge, Ricardo Sanchez, (West Cornwall) Finn Rule, Bradley Barnes, Casey Olds, Hannah Body and Kira Barnes.
It was a good day for Truro's Juniors as they played the final of the Brian Gripe Scratch Summer Knockout at Tehidy Golf Club against West Cornwall. The morning 18 holes saw some incredible golf from both teams, but it was Truro that built a solid foundation as going into lunch they were up in all five matches.
At the front end CLCGA County Champion Laura Andrew was 2 up on County Junior Captain Bradley Barnes. Behind Laura, Olivia Trewelha was 2 up on Finn Rule, whilst Ricardo Sanches had a 3 hole lead over Kira Barnes. Completing the picture, Thomas Stephens was 3 up on Casey Olds awhilst Josh Hodge had raced to a 5 hole advantage over Hannah Body. Everyone though was conscious of the fact there were a further 18 holes to play.

After lunch, the wind picked up but it didn't seem to have an impact on the quality of golf being played. The lead pairing of Barnes and Laura Andrew were all square on the 31st hole when the overall result was confirmed and they agreed to an honourable half.

That was the only half though as Truro consolidated their halfway lead and turned it into a comprehensive victory. Trewhela beat Rule 7&6, Ricardo Sanchez beat Kira Barnes 6&5, Stephens ploughed on to a 9&8 win over Olds and Hodge despatched Body 8&7.

The final had been played in a tremendous spirit and both teams sat down together afterwards to tuck into some well deserved food before Junior Vice President Simon Ferguson – Smith carried out the presentation of prizes congratulating both teams on the high quality of golf played. Host club Tehidy Park were thanked for staging the final and the hospitality surrounding it and the arrangements.

Other Truro players who played earlier rounds of the competition were not forgotten and these included Emily Wilson, Jack Andrew and Cameron Gurd. Gurd was unavailable for the final as he is currently at The Manchester Golf Club participating in the England Golf U14 Open Amateur Strokeplay Championship for the Reid Trophy, which commences tomorrow. We wish him well!
The Truro team are pictured below with their prizes - and don't they look smart! Simon Ferguson-Smith looks on. L to R: Josh Hodge, Ricardo Sanchez, Thomas Stephens, Laura Andrew & Olivia Trewelha.