Trevose are Maxam Cup Winners 2019
Monday 12th August 2019
CGU Maxam Cup Sunday 11th August 2019 Bude & N Cornwall GC
The 6 man Trevose team - pictured above - won the CGU Maxam Cup 2019 for the fifth time yesterday at Bude & North Cornwall Golf Club after a strong second round performance saw them come from behind to claim the trophy. Trailing by three shots to 1st round leaders Tehidy Park (150) and St Enodoc (152) the Trevose side returned a 2nd round 145 to win on an aggregate total of 298 by two shots from St Enodoc (300) with Tehidy Park on 302. In the competition's 40 year history Trevose had won in 2005, 2007, 2009 and 2015.
The Bude course was presented in good condition but conditions proved difficult. With the majority of the day dry, a moderate breeze coupled with a number of very heavy downpours impacted on everyone.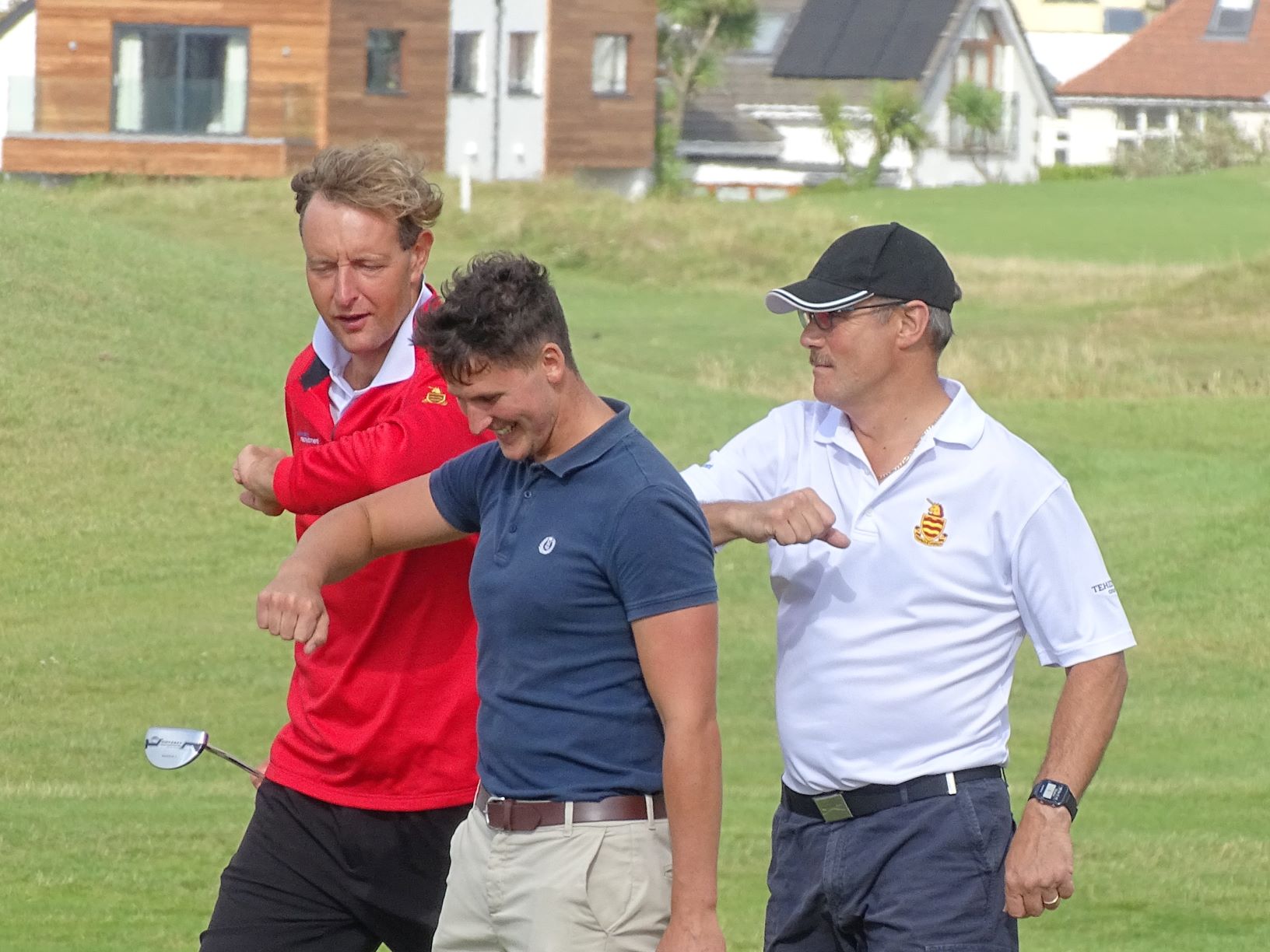 Consolation for Tehidy Park came in the form of an individual pairs best combined total of 146 from Rob MacGregor and Justin Barnard who clearly enjoyed themselves (above) and put together rounds of 72 and 74 for a 4 over total in the foursomes competition. Best pairs score of the day was returned by Launceston's Richard Jasper and Ben Wevill whose second round 69 (-2) added to a first round 79 saw them claim individual pairs runners up spot.
Trevose morning total of 153 came from the pairings of Steve Davies and Nick Gammon (76) and Carl Burley and Cary Clark (77) and the same two pairs registered 73 and 72 respectively in the afternoon to see the club top proceedings in the competition in which a total of 16 clubs from across the county competed.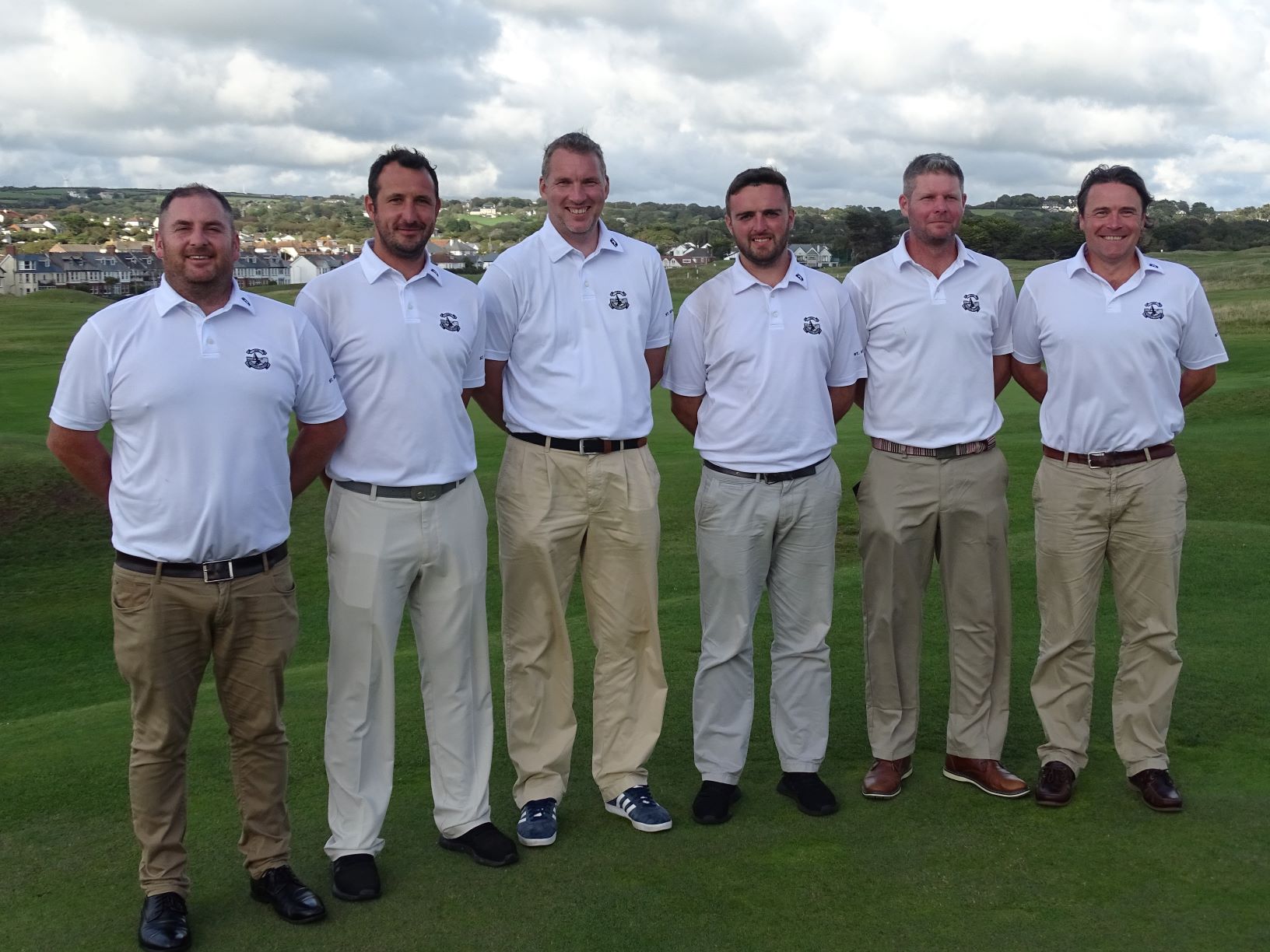 For St Enodoc - pictured above - Joe Combellack and Josh Greenaway returned a pair of 76s whilst Steve Chapman and Ian Joliff scored 76 and 72. Barnard and MacGregor were the leading Tehidy Park pair whilst team mates James Barnard with Josh Chapman and Matt Lock with Tom Chapman both scored 78s morning and afternoon.(St Enodoc L to R: Steve Chapman, Josh Greenaway, Ian Joliff, Joe Combellack, Neil Childs and Dave Lupton)
And an honourable mention for the West Cornwall pairing of Jamie Cameron and Graeme Webster. The two 7 handicappers were drafted in at the last minute and after a morning 80 registered the second best afternoon score of 71. Their team mates Matt Richards and Jack Kevern had scored the second best morning score of 75 before fading somewhat with an 83.
Winners over the last two years, Perranporth, finished 4th on a total of 306 whilst hosts Bude were 5th one shot further back and Launceston were 6th.
Bude Club President Judith Smith welcomed the competitors to the club saying how pleased the club were to be able to host the event.She and CGU President Mike Ellis presented the prizes. Ellis thanked the club for their excellent hospitality, paying tribute to a number of club personnel, and particularly for staging the competition at short notice.