Charlie Phillips is Seniors County Champion 2019
Friday 9th August 2019
CGU Seniors County Championship Thursday 8th August 2019 Tehidy Park GC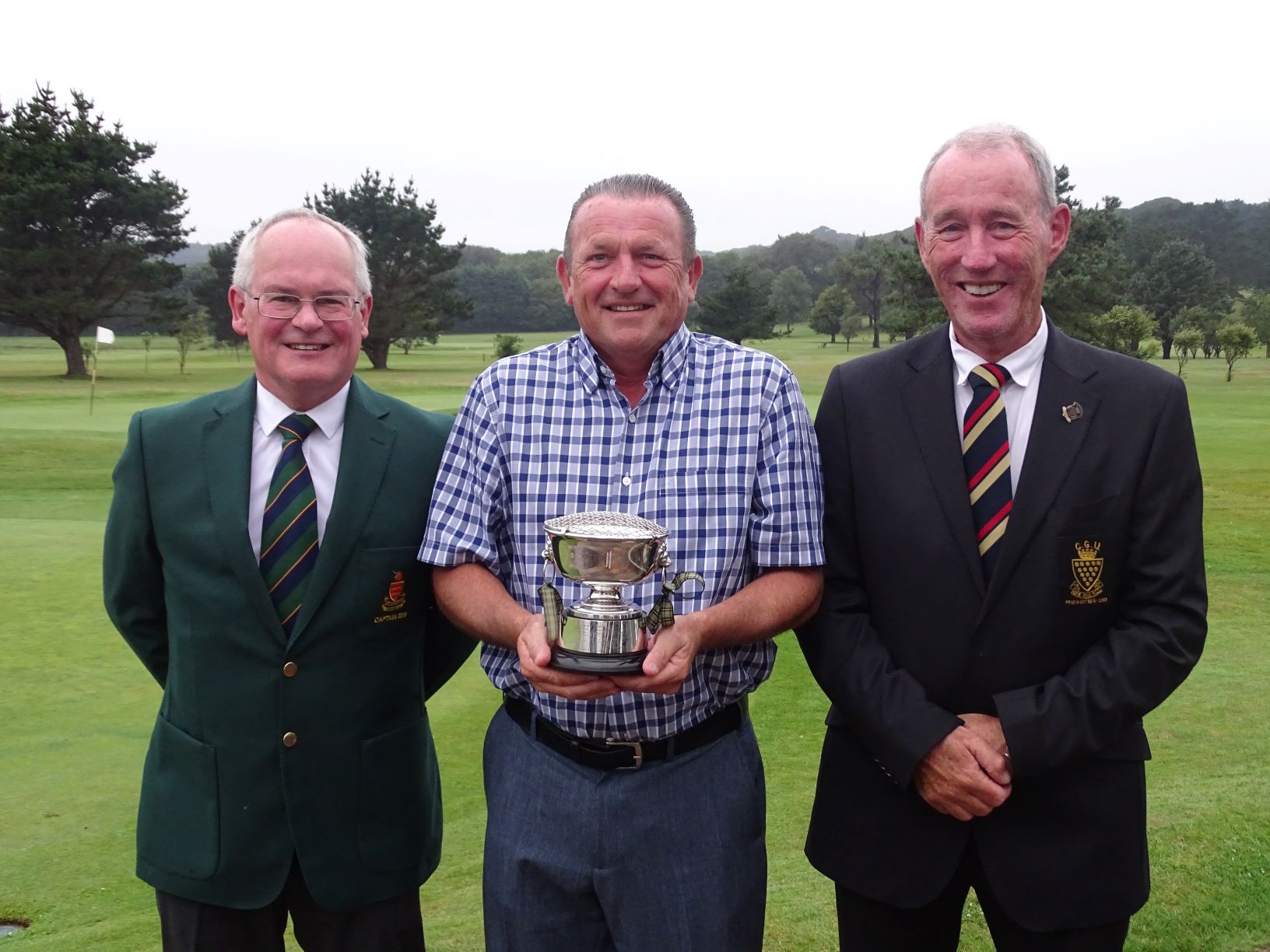 Three time Men's County Champion Charlie Phillips (Newquay) proved yesterday the passage of time has not dented a winning ability as he claimed the Seniors County Championship title in difficult conditions at Tehidy Park GC. Having won the Men's Championship in 1985, 1989 (at Tehidy Park) and in 1993, 2019 Phillips scored a morning level par 71 followed by a 79 to claim a one shot victory over Malcolm Edmunds (West Cornwall).
In this first year where the Seniors Championship was to be decided over 36 holes Phillips first round contained 10 pars and 4 birdies as he very steadily went about his business with just the one 5 on his card. At the halfway point He found himself with a 5 shot lead over clubmate Phil Clayton and Mike Wigley (West Cornwall) who both returned 76s.Round two was played under initially intermittent but then increasingly wet conditions.Phillips this time made 11 pars with one birdie and must have feared the worst after a quadruple bogey 8 at the par 4 15th.Finishing on 18 with a bogey 5 for an overall total of 150, he then had a nervous wait.He need not have worried although in the end it was a close run thing.
Edmunds followed a morning 79 by beating his age in round two with a fine one over par 72 to finish on 151 and Wigley playing steady golf registered a 75 to finish third overall on the same number. Last years winner David Kneebone (Truro) finished in 4th place with rounds of 78 and 75. Best round of the day came from Rod Handyside (West Cornwall) who followed a morning 84 with a one under par 70 to finish 5th overall.
Cornwall Seniors County Championship 36 Hole Gross Scores
In the nett competition Rod Handyside claimed top spot with Paul Clahane and Mike Ellis (both Trevose) 2nd and 3rd respectively.
A total of 132 players took part on the day with 27 playing in the gross championship and 105 taking part in the traditional stableford competition in 5 different age categories.
The best stableford score of the day was returned by Robert Blakesley (West Cornwall) with a very fine 39 and this meant a win in the 65-69 age group, where Graham Etherton (Perranporth) was second on 36 and David Phillips (West Cornwall) third on 33.Full Category results
75 Years and older: 1st David Perry (West Cornwall) 33, 2nd Ross Oliver (Trevose) 33, 3rd Arthur Panter (Merlin) 32. Full Category Results
70-74 years: 1st Roger Mildren (Budock Vean) 36, 2nd Brian Joy (West Cornwall) 34, 3rd Ian Jeffery (Trevose) 34.Full Category Results
60-64 years; 1st Julian Ridge (Tehidy Park) 38, 2nd Steve Wicks (West Cornwall) 36, 3rd Andrew London (Mullion) 36 Full Category Results
55-59 years: 1st Mark Hollis (Tehidy Park) 37, 2nd Danny Downing (Truro) 34, 3rd Tony Friday (Radnor) 34 Full Category Results
Tehidy Park GC Captain Julian Ridge welcomed those present to the presentation and spoke of how honoured the club was to host the event. He and CGU President Mike Ellis presented the prizes (some to each other!) after Ellis had thanked the club, its membership and staff for their hospitality, the arrangements leading up to the event and the condition of the course.
In his acceptance speech Charlie Phillips spoke of how delighted he was to win his first Seniors County Championship at the venue where he had previously won the men's equivalent. To the amusement of those present and with tongue very much in cheek, he expressed pleasure at having seen off Malcolm Edmunds who had so often got the better of him over the years.