Kneebone Becomes CGU Seniors Champion 2018
Friday 17th August 2018
CGU Seniors Championship 2018 Thursday 16th August 2018 Trethorne GC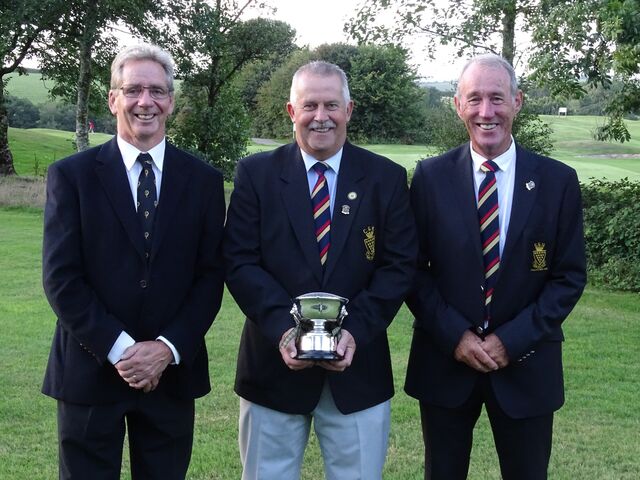 Former CGU County Captain David Kneebone yesterday became the 2018 County Seniors Champion after registering a one under par round of 70 to head the field of 105 who took to the course at Trethorne Hotel & Golf Club. David Kneebone is pictured above centre with Ivor Edmunds (Trethorne GC Captain) and Mike Ellis (CGU President)
The long term Truro member and County Captain from 2015-2017, made 3 birdies on a bogey free front 9 of 33. A double bogey 6 at the 11th and a bogey at the 13th did not derail his challenge as 4 pars and a birdie 3 at the last hole saw him home and to a 4 shot winning margin.
Kneebone was delighted with his win. "I have been very conscious that as time goes on my chances of winning this would decrease with a good number of younger players coming in behind. So I am absolutely thrilled to have won. My game has not been so good of late but it turned around in our recent (Channel League) win and today the putts dropped as well. I am a very happy man indeed." Kneebone's reward for winning is a trip to Woodhall Spa and the Headquarters of England Golf for the two day Senior Champion of Champions event involving the winners of senior championships from across England's other counties. This takes place on 15th/16th September 2018.

Runner up was Rod Handyside (West Cornwall and pictured left) who continued his run of good form this year with a 3 over par 74 which included a level par back 9 holes. The back 9 was good enough to pip clubhouse leader, for a long part of the day, CGU Vice President Andrew Clotworthy (Tehidy Park) who also returned a 74.
In essence the field played a stableford competition in 5 separate age categories with those who completed a gross card eligible for the Seniors County Championship (31 players did so).
Trethorne GC Captain Ivor Edmunds welcomed the competitors to Trethorne and hoped they had enjoyed the course and hospitality before presenting the prizes together with CGU President Mike Ellis.
Ellis thanked the club and commended them on the condition of the course. He also thanked sponsors Ocean BMW (Falmouth) for their support of the CGU and this competition. He referred to and acknowledged how important senior golfers are to the county and cited the recent Over 55s Championship and this Seniors event and its popularity as examples. Proving age is no barrier to the enjoyment of the game some 9 golfers in the field were aged over 75 with the oldest competitor being 77 years of age - no names but still very spritely indeed!
Leading Gross Scores:
70 David Kneebone (Truro)
74 Rod Handyside (West Cornwall), Andrew Clotworthy (Tehidy Park)
75 David Goodman (Bowood Park), Gary Marquand (Trethorne)
77 Gary Stone (Bude & N Cornwall)
78 Stewart Bradley (Lanhydrock), Charlie Phillips (Newquay)
79 Mike Wigley (West Cornwall), Brian Green (Newquay), Malcolm Edmunds (West Cornwall), Ian Forbes (Trethorne),
Prizewinners in the various age categories were:
75 years and above
32 Bob Hartnell (Budock Vean)
29 Graham Buck (Falmouth), Richard Brown (St Mellion)
70-74 years
35 Ian Jeffery (Trevose), Les Jewell (Trethorne)
33 Brian Skews (Perranporth)
65-69 years
37 David Goodman (Bowood Park)
35 Greg Wood (Perranporth)
34 Michael Wigley (West Cornwall)
60-64 years
38 Ian Forbes (Trethorne)
37 Paul Upperton (Budock Vean)
36 John Alton (Carlyon Bay)
55-59 years
41 David Kneebone (Truro)
38 Andrew Clotworthy (Tehidy Park), Gary Marquand (Trethorne)
All Stableford Results (Age group Categories also)