Simmons and Screech Shine
Monday 14th January 2013
WGS Trevose 13 January 2013
The fourth event of the 2012/13 Winter Golf Series took place at Trevose Golf Club yesterday in lovely sunny conditions and with a field of 36.
CGU County Vice Captain Richard Simmons (Tehidy Park ) was the winner with a level par round of 36 scratch points. In second place also with 36 and losing out only on countback was home player Richard Ackland. Perranporth's Chris Fleming was third with 35 points.
In the handicap section, China Fleet junior Jack Screech was the winner with an impressive 39 handicap points, just pipping the 38 of Simmons. Ben Treleaven (Truro), was third also on 38 points.
Matt Richards (West Cornwall) has retained the lead in the WGS Order of Merit with 48.83 points. Last year's winner Bowood's Josh Greenaway is in second place on 47.5 points with Ben Westgate third (38.5).
The Order of Merit consists of the top 3 scores from the 5 events. The top eight in the Order of Merit plus two wild cards will play against a team of Professionals on Sunday 17th March 2013.
The Winter Golf Series would like to thank Trevose Golf Club, particularly Nick Gammon and David Cowan, for hosting the event, and also the Green staff on producing a golf course in fantastic condition.
The next Winter Golf Series event is being held at St Enodoc Golf Club on Sunday 10th February 2013.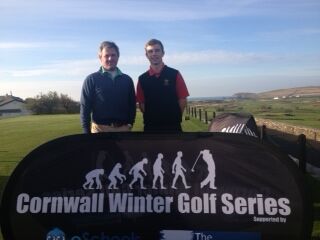 Richard Simmons (left) and Jack Screech winners at a sunny Trevose
Full Trevose scores and the OoM can be viewed here and on the WGS page.