Perranporth Retain Maxam Cup
Sunday 12th August 2018
CGU Maxam Cup Sunday 12th August 2018 Bude & North Cornwall GC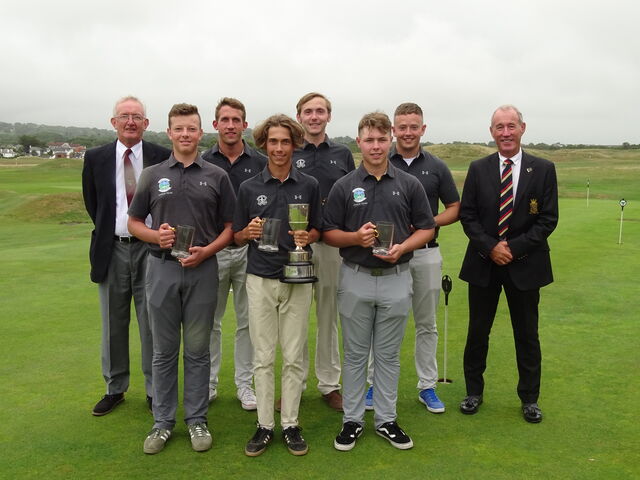 On a generally overcast day when the forecast bode badly for the 36 hole Maxam Cup at Bude & North Cornwall GC, 92 players took to the course and were in the main treated to dry conditions and warm temperatures with the occasional downpour. Bearing in mind the rain which had fallen in the preceding days and throughout the night the course at Bude was presented in excellent condition thanks to the efforts of James Leitch and his team.
Coming out on top and retaining the title they won last year were the 6 man team from Perranporth who came from behind after round 1 where they trailed St Enodoc by 2 shots.
The morning round was led by the St Enodoc team who taking the two best scores from three in the foursomes strokeplay totalled 145, led by County Team members Joe Cruse and Jack Irwin who returned an excellent 2 under par 69. The other counting score for St Enodoc came from Lewis Bradley and David Lupton with a 76.
Perranporth's two best morning scores added to 147 made up of a 73 from Adam Taylor and George Law plus a 74 from Sandy Kirton and Conor Wilson.
Tehidy Park claimed third spot at the halfway point with a total of 147 as County Vice President Andrew Clotworthy paired with Tehidy Club Captain Peter Simmons, registered a level par 71, to which was added a 76 from James Barnard and Joe Venn.
Cruse and Irwin added a second round one under par 70 which was good enough to see them claim the prize for overall best pairs score on a 3 under total of 139. Their team mates Steve Buse and Mike Masters returned a 79 whilst Bradley and Lupton faded to an 84.
Playing at the back of the field Perranporth's junior pairing of Rhys Kerton and Lewis Woolaway made a vital contribution with a 2 over 73 and when Wilson and Kirton came in with a one over 72 the halfway positions were reversed with St Enodoc finishing runners up. For Perranporth Taylor and Law registered a 74.
Third spot went to Trevose (Total 296) on countback from Tehidy Park with Truro 5th (299) and China Fleet 6th on the same total.
Three pairs finished on the same individual total of 146 (+4) : Kirton & Wilson, Carl Burley & Guy Norris (Trevose), who shot the joint best afternoon score, and brothers Tom and Matt Fox (China Fleet).
Bude & N Cornwall GC Captain Dave Simmons welcomed all those present to the club and presented the prizes. CGU President Mike Ellis thanked the host club and all involved for staging the event and the associated work that had gone into making the day so successful.
Picture above shows the Perranporth winning team with Bude Captain Dave Simmons and CGU President Mike Ellis. (L to R: Dave Simmons, Lewis Woolaway, Sandy Kirton, George Law, Conor Wilson, Rhys Kerton, Adam Taylor and Mike Ellis)
Please note the team results do not take into account the countback and also Newquay individual scores are at this time showing incorrectly although the team total is accurate.
Picture below of the runners up, St Enodoc (L to R: Lewis Bradley, David Lupton, Jack Irwin, Joe Cruse, Mike Masters and Steve Buse)