Richards is 2014 County Golf Champion
Monday 26th May 2014
CGU Amateur Championship 2014 Tehidy Park GC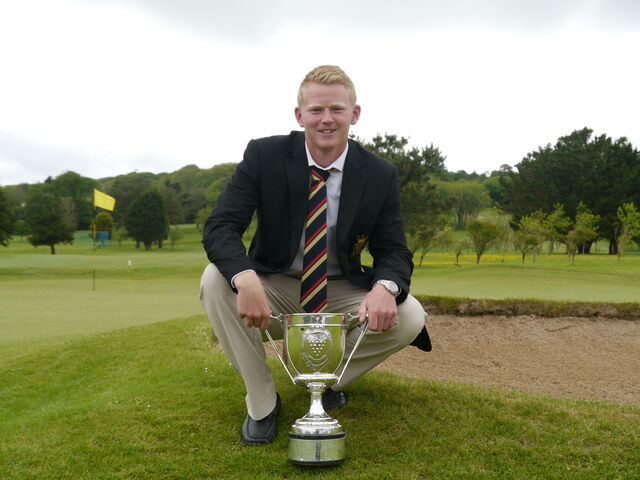 The 2014 CGU County Week at Tehidy Park GC came to a conclusion on Saturday as 21 year old Matt Richards (West Cornwall GC) was crowned County Amateur Golf Champion after a scheduled 36 hole final in which he defeated 18 year old Adam Curtis (Bude & N Cornwall) by a 5&4 margin. This was a sweet victory for Richards after he had lost in the 2012 final to Mike Reynard.
In getting to the final Richards had defeated Theo Pahlsson (Launceston W/O), Reynard (Trevose 5&4), Matt Lock (Newquay 2&1) and Tom Fox (China Fleet 5&4), whilst Curtis had seen off Jack Mewton (Truro at the 20th), Tom Rowe (Tehidy Park at the 19th), Niall Hutton (St Mellion 1 up) and Ian Veale (Tehidy Park 1 up).
The final comprised some very good golf with Richards -4 under at the lunch interval and 3 up overall and although Curtis himself was -1 he was trailing to the better player. In a nice twist Curtis had been staying with the Richards family during County Week and now the two good friends were duelling for the title.
It was to go the way of Richards as the afternoon progressed with further good golf for the watching crowd to observe.
At the first afternoon hole Richards got up and down from the bunker and when Curtis 3 putted Richards was 4 up. The pair halved the next when Curtis holed a 25 footer but Richards took the 3rd hole with a great birdie to go 5 up. Curtis was not done though and made an excellent eagle at the 4th to bring the deficit back to 4. Curtis holed another 25 footer at the 5th to get up and down and make a half and the next was also halved in pars. With Richards in the driving seat his birdie at the 7th followed by a win on 8 saw him take an almost unassailable lead at 6 up. Curtis had found the bunker off the tee and could only make a 5.
The quality golf continued though as Curtis holed this time a stunning 40 foot putt on 9 to birdie the hole and bring himself back to 5 down. Curtis won the 10th to give himself further hope at 4 down. 12 and 13 were halved with both having chances, Richards after a superb chip over the bunker which set up his chance but almost unbelievably his putt stayed above ground. So to 14 with Richards 4 up.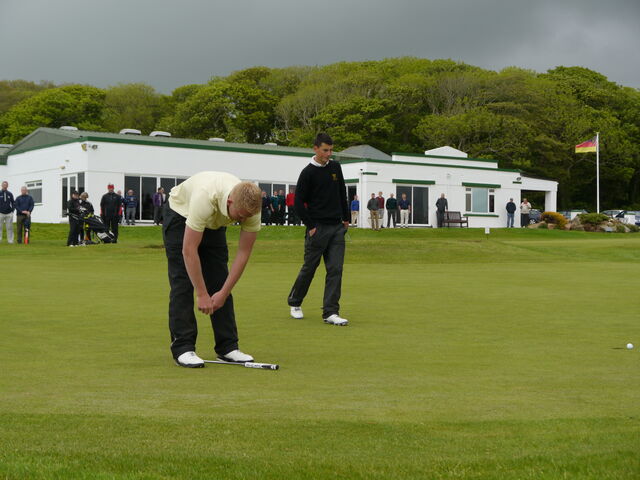 Richards cannot believe his putt on the 13th stays above ground watched by Curtis.
On 14 however the match came to an end and Richards was declared the Champion with a safe par as Curtis bogeyed having left his tee shot short and in the rough. Richards was on the green in regulation whilst Curtis found the greenside bunker from where he did not get up and down. With Richards making a straightforward two putt the Championship was his.
The finalists had both displayed some quality golf and were a credit to themselves and the game.
Both are products of the County Junior Golf programme with both having been Junior County Captains, Curtis as recently as 2012-13.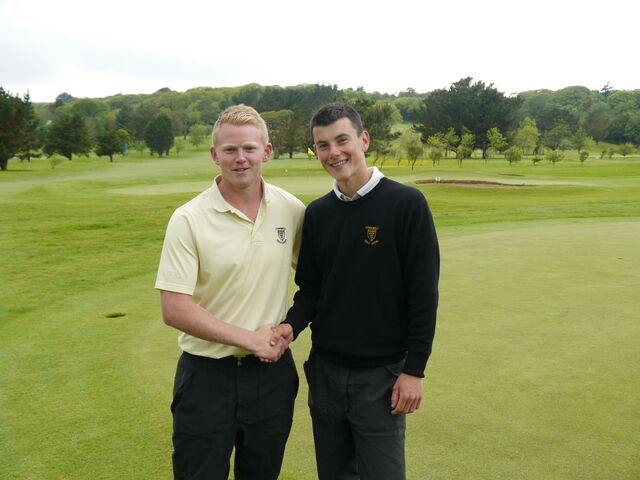 Curtis congratulates Richards at the conclusion of their match.
Richards, was delighted with his win saying, 'It was hard to lose a couple of years ago but I am really pleased to have won this time round. Adam played great golf this week and to play him in the final was great.'
Amateur Championship Knockout Stages
Cornwall Golf Union President David Inch himself a West Cornwall GC member was obviously delighted to hand the trophy to Richards but paid tribute to both players for their performances across the week.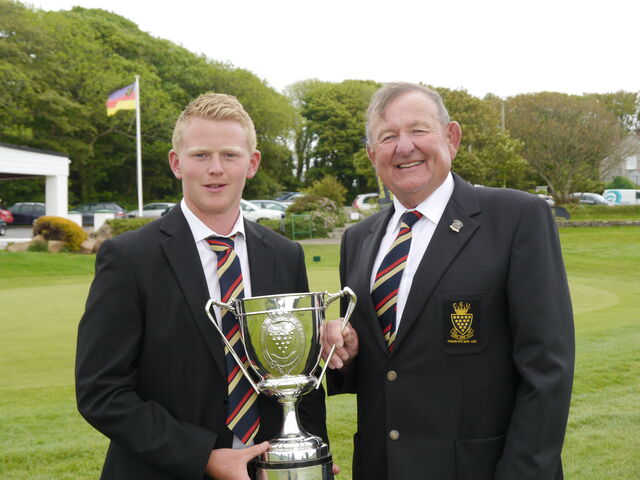 Inch and Tehidy Park GC Captain Simon Gregor hosted the prize presentation in a packed clubhouse which warmly welcomed Richards as he returned to the room having completed a live interview with BBC Radio Cornwall. Inch thanked Tehidy Park GC for their warm welcome to the Union and to all the competitors during the week long event. He paid tribute to Course Manager Andrew Eddison and his staff for their hard work across a rain interrupted week and for the excellent condition the course had been presented in. He also thanked caterers Martin and Kathy Hoyle for the first class fayre they had produced all week and also thanked host club secretary Ian Veale for his assistance in the run up to and during the event.
At the conclusion of the presentations County Captain Richard Simmons named the 12 players who will represent Cornwall in the forthcoming South West Counties Golf association Week at Royal North Devon GC commencing on Sunday 8th June 2014.
The 12 players are Richard Jasper (Launceston), Rob MacGregor and Ian Veale (Tehidy Park), Conor Wilson, Chris Fleming (both Perranporth), Richards and Harry Hall (West Cornwall), Curtis (Bude & N Cornwall), Steve Chapman and Joe Cruse (both St Enodoc), Josh Greenaway (Bowood Park) and Tom Fox (China Fleet)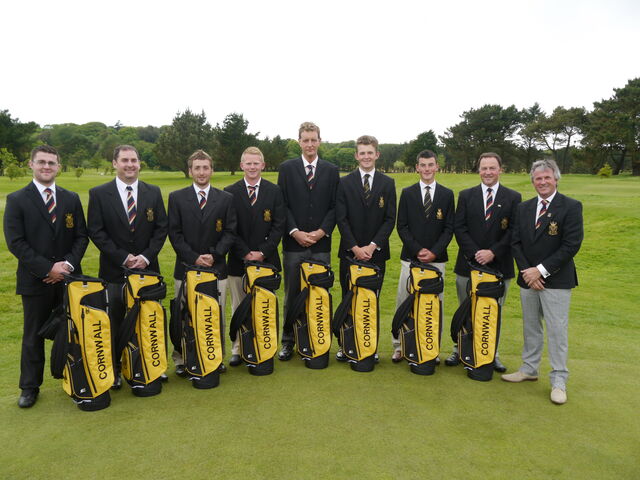 (8 of the 12 players selected to represent Cornwall at South West Week. L to R Tom Fox, Steve Chapman, Richard jasper, Matt Richards, Rob MacGregor, Harry Hall, Adam Curtis, Ian Veale and County Captain Richard Simmons)
Simmons said he was very proud to be able to name what he considers to be a very strong side who he is confident will have success at Royal North Devon early next month.