Cornwall Seniors
South Western Counties Senior Golf Association Championship
Newquay GC 16 - 19th September 2012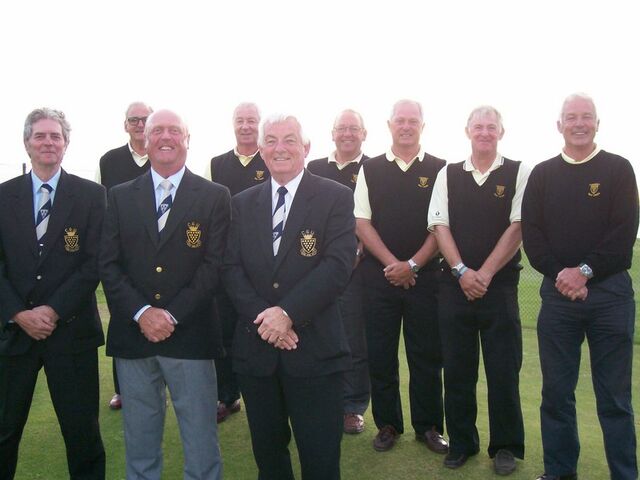 Back row (L to R): Mike Hayes, Peter Marshall, Dave O'Mahoney, Pete Verran, Ian Brown, Mike Eddy
Front: Bill Morton, Mike Marshall, Paul Clahane (Not present - Richard & Phil Hine)
Over three blustery days Cornwall contested the annual Southwest Counties Seniors Association Match Play Championship at Newquay Golf Club. With the course set up to test even the best players, things were going to be close. It came down to the last putt on the last green of the last match! Mike Eddy and David O'Mahoney secured a half against Devon providing a overall win against the "Olde Enemy". Cornwall and Dorset were tied on 3 ½ match points from 5 outings and 11 ½ games won. Unable to separate the teams an amicable tie was agreed.
05.09.12
Cornwall Seniors 4.5 Gloucester Seniors 10.5 at Trethorne Golf Club

Cornwall Seniors welcomed Gloucester Seniors to Trethorne Golf Club, Launceston, for the penultimate match in the 2012 Channel League.
The golf course was presented in very good condition and the weather could hardly have been better, but it did not prove to be anything like home advantage for the Cornish team!
At lunch after the five morning nine hole foursome matches Gloucester had romped to a 5 – 0 lead, close matches but with only one match going the distance, Colin Ross (Falmouth) and Dave O'Mahony (Tehidy Park) losing one down.
After lunch Cornwall had it all to do needing a minimum 7.5 pts. from the ten singles matches to take anything from the encounter.
Unfortunately despite the early indication that a very close result was on the cards, Gloucester rallied and once again took the upper hand.
Well done on good wins to Colin Ross 1 Up, Dave O'Mahony 2&1, Mike Hayes (Budock Vean) 1 Up, Mike Eddy (Tehidy Park) 1 Up and a half from Mike Marshall (St Mellion)
The Gloucester Captain, Richard Boulding thanked the staff and management of Trethorne for their hospitality and excellent food over the two days!
The Cornwall Captain, Dave Goodman, congratulated Richard on his team's victory and also took the opportunity to wish the Gloucester team good luck when they represent the South West Seniors in the Southern Counties Finals and the English Golf Union Finals later in the year.
Next Match v Devon at Tehidy Park on Friday 14th September 2012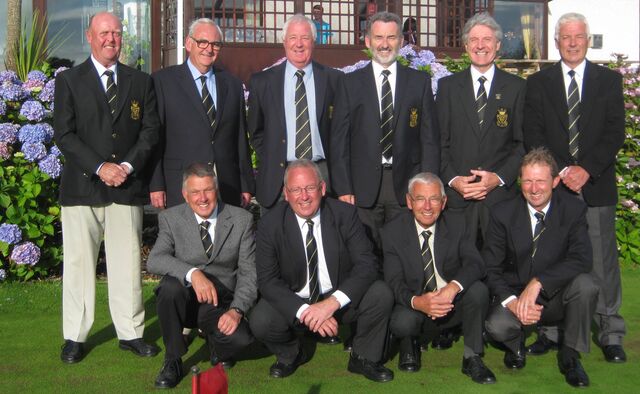 06.08.2012

Cornwall Seniors 11 Wiltshire Seniors 4 at Bowood Park Golf Club

Cornwall Seniors start their second half of the season with the first of three home matches, welcoming Wiltshire to Bowood Park, Camelford.
What a welcome!! The Wiltshire team travelled down through pouring rain on Sunday morning with the intent of playing a practice round in the afternoon. Unfortunately it was quickly apparent that the heavy rain, thunder and potential for lightning was going to make any chance of practice impossible.
Monday morning saw more rain and with an hour to go to tee-time, much discussion took place as to how the match could continue.
Despite all it was decided to continue as planned and thankfully and completely on cue, the rain stopped, and thanks to excellent drainage the match commenced.
The foursome matches were closely fought with three matches halved and the other two going in favour of Cornwall although only one match stopped short, and only by one hole.
The wind increased slightly after lunch but if anything the golf improved with several of the Cornish team making very positive starts, Dave O'Mahony one under par and six up after 9 holes, Dave Goodman two under and five up at same stage!
The good news continued around the course and it was soon clear that it was going to be Cornwall's day.
A dominant performance saw wins for Alan Poole 3&2 (St.Mellion); Colin Ross 5&3 (Falmouth); Dave O'Mahony 6&5 (Tehidy); Mike Hayes 3&2 (Budock Vean); Mike Marshall 3&2 (St.Mellion);
Dave Goodman 5&4 (Bowood Park); Mike Eddy 7&6 (Tehidy); and Rob Stacey (Newquay) who battled in for a half at the eighteenth.
The Wiltshire Captain extended his thanks to the staff of Bowood Park for the welcome and hospitality and both teams commented on the condition of the course despite the weather that had been thrown at it, a credit to the greenstaff.
11.07.2012
Cornwall Seniors 9.5 Somerset Seniors 5.5 at Worlebury G.C.

Cornwall Seniors Channel League third successive away match was to meet Somerset at Worlebury Golf Club near Weston-s-Mare on Wednesday 11th July.
Practice on Tuesday found a relatively short course, as per the card, which was somewhat compensated for by some tight tree-lined fairways. Naturally very soft under foot but in good condition and most importantly the sun shone!
At lunch after the morning foursomes Cornwall were slightly flattered to be 4 – 1 up, having three of the five matches go to the last hole, but a great result to take into the singles.
The sun continued to shine in the afternoon, however, the wind increased and the holes directly into the wind became much tougher.
The match started to turn in favour of the home side as after the first five singles it was 3.5 to 1.5 to Somerset!
Match six saw late replacement Paul Clahane turn in a creditable 3&2 win and apart from a heavy defeat for Dave Goodman in the battle of the Captain's, Geoff Ogden running out a 7&6 winner, but the final three matches turned back in Cornwall's favour.
An excellent win for Mike Marshall (St Mellion) 5&4, also wins for Mike Eddy (Tehidy) 3&2, Harry Walker (China Fleet) 3&2, Rob Stacey (Newquay) 2&1 and a half on the 18th for Dave O'Mahony (Tehidy)
14.05.2012
Cornwall Seniors 9.5 Gwent Seniors 5.5 at Peterstone Lakes G.C.
Cornwall Seniors Channel League second match saw another trip to the Principality – across the Severn once more, to Peterstone Lakes G.C a parkland course which had, as the last intended venue, suffered heavily from higher than average rainfall. In fact the course had been closed for much of the previous two weeks!
Great credit has to go to the greenstaff who worked magnificently from 6a.m. to ensure the course was playable for the match. From practice on Sunday afternoon to10:30 a.m. on Monday a significant improvement was seen.
The morning foursomes got under way just after the rain stopped and was very evenly matched and once again at lunch it was honours even at 2.5 to 2.5
For the afternoon singles the wind had increased, and with the combination of tree lined fairways and many ditches and small lakes the conditions were nothing short of tricky, however, the sun continued to shine.
With true fighting spirit the Cornish held their nerve, and battled on.
A great 7&5 win by Newquay's Rob Stacey started the ball rolling, followed by a 4&3 win by Vice Captain Ian Brown (West Cornwall). Wins also for Alan Poole (St Mellion), David O'Mahony (Tehidy), Michael Hayes (Budock Vean ), Harry Walker China Fleet and Captain Dave Goodman (Bowood Park)
02.05.2012
Cornwall Seniors 7.5 Glamorgan 7.5 - at Southerndown G.C.
Cornwall Seniors 2012 campaign got off to a promising start even though the weather and conditions threatened to totally disrupt it!
On arrival for practice at Creigiau G.C. it was discovered that the course was unplayable due to eight trees toppled by high winds, areas of serious flooding and littered with debris!!
The Glamorgan Captain was trying to locate an alternative course and was fortunate that Southerndown G.C some 20 miles away was willing and able to shift things around to accommodate the match.
As soon as confirmed the team moved on to Southerdown and were able to arrange to get on the course for a practice round. (at own cost)
As forecast the weather on Wednesday was much better and the morning foursomes got under way with the Cornish making an excellent start and with two matches left it could have been 4 –1 at lunch but for the last green where Glamorgan holed monster putts of 25 and 30 feet for half and win respectively.
2.5 v 2.5 at lunch
The sunshine continued and the afternoon singles got going.
Some very good golf was seen by the watching Glamorgan officials and supporters. With two matches left on the course it was still deadlock at 4 all. One went down on the eighteenth but well done Mike Eddy (Tehidy) who held his nerve to close out on the 17th 2&1.
This added to great wins by Harry Walker, Alan Poole, Mike Hayes and a storming 7&6 win by Past Captain Mike Marshall
The results of all our county matches can be found be going to the Results Menu off the Home page and clicking on County Team Results where you can view the match result and player stats.